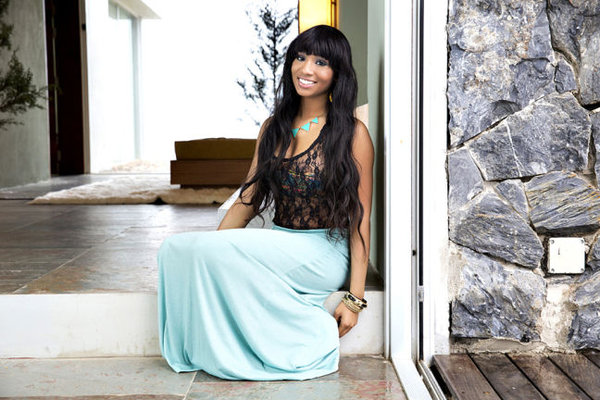 MTV has brought back The Challenge for another intense season with "Free Agents". A combination of competitors both new and old, the cast members finally have the chance to fight for themselves and prove they have what it takes…with no partners or teams holding them back. Latoya Jackson came onto the scene this season as a new competitor but quickly proved she was not someone to underestimate. She held her own in more than one elimination round and wasn't afraid to stand up for herself in the house.
We had the opportunity to chat with Latoya about her time on The Challenge: Free Agents, what really went on in Uruguay, and what's next for her.
Read on for our interview with Latoya Jackson:
Pop City Life: Were you a fan of The Challenges growing up?
Latoya Jackson: To be honest, no I never really watched the challenge until I got the opportunity to do one. I would occasionally catch bits and pieces here and there but I never really had that one person or storyline that grasped my attention long enough to tune in on a consistent basis. Until of course Free Agents came along and I stepped on the scene.
Were you excited that this was a Challenge format that ultimately meant competitors would have to rely on themselves instead of others?
Latoya: I was all for it! I loved the fact that I didn't have to rely on team mates or a partner to determine my own fate in winning or losing. I've always been a "pro-individual, stand on your own two feet" type of girl, so having an individual based game was right on time and right down my line. However, as it turned out, a lot of the challenges where ultimately teamed based until it was time to go into the elimination round. So ultimately, the only time you were a free agent was during the fight for survival. But I was ok with that.
Was there anything you were nervous about going into your first Challenge? Was there anything you just did not want to have to do?
Latoya: Oh yeah, I was nervous about quite a few things. Like the location, the climate, the amount of phonies I'd be living with, and the altitude in which I'd be hanging or free falling in the event I'd somehow had to do a challenge involving heights.

How satisfying was it to go into an elimination round as the underdog and come out victorious?
Latoya: It was extremely satisfying to the soul. I'm not one to do a lot of explaining, pleading, and begging. At no point did I intend on kissing ass for the sake of a survival. So being the first person they decided to vote in came as no shock to me. It was what I expected. The typical coward approach, and the easy way to not piss anyone else off…vote for the rookie. But when I kicked ass and returned, I believe they were more shocked at me sending a "vet" home and coming back in the house after "passing out" the day before, than I was at them voting me in. I knew what I was capable of doing, but they didn't. That itself gave me satisfaction.
What would you say your strengths and weaknesses were going into The Challenge?
Latoya: My strengths were most definitely my ability to stay true to my character, maintain my sanity, and speak my mind on a consistent basis. As far as my weaknesses are concerned, that will always be big, strong, handsome men.
Things got heated between you and some others on the show. Is that tension something that viewers should look out for if you guys are on another Challenge together?
Latoya: Unless he/and/or she lack the existence of a life outside of this show, and sit around all day thinking of me and a comeback line to potentially throw my way if they were ever blessed the opportunity to be in my presence again… Nah, I doubt that will be a problem.
How crazy do things really get in the house? Do you have any favorite memories from hanging out with the cast or a favorite Challenge moment?
Latoya: Things got buck wild pretty fast… like, the first day. It was definitely different from the Real World, its another level of back biting, craziness and cry for attention. Meanwhile, in the midst of all the wild moments I endured, my fondest will forever and always be The LaToya and Brandon Show, and sometimes Isaac.
Without TV, phones, or the internet, how do you guys pass the time? Was the Latoya and Brandon show as fun as it looked?
Latoya: I'd say entertaining one another was the best way for us to help pass time, and the LaToya and Brandon Show definitely played a major role in being a great source of entertainment. It was a hit! We rocked the house, loosened up the environment and got everyone involved in a non-competitive type of way.
Do you keep in touch with anyone from the show?
Latoya: Yeah I actually do. Jessica and I live a little over an hour apart, we hang out and keep in touch all the time. And I talk with Jasmine, Emilee Fitz, and Swift on a pretty consistent basis.
Is there anything that fans didn't get to see that you wish MTV had included?
Latoya: Yeah, I really wish fans got the chance to see a lot of the wild and crazy moments of laughter a few of my cast mates and I had after lights were out and all the boring people went to sleep. Thinking back, Aneesa, Cara Maria, Isaac and I rendition of the Matrix in slow motion was absolutely hilarious and something the world should have seen!
Finally, will you be back for another Challenge? What can fans look forward to from you next?
Latoya: Welp, that's one thing you'd have to tune in to find out, now won't you.
We'd like to thank Latoya for taking the time to answer some questions for us. We really appreciate it.
Be sure to keep up to date on all things Latoya by following her on Twitter @LaToyaJMTV.
Don't forget to tune in to The Challenge: Free Agents, Thursdays at 10pm on MTV.