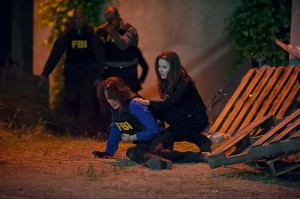 The Mentalist's new episode, "Il Tavolo Bianco", begins with Jane (Simon Baker) investigating Lisbon's (Robin Tunney) next moves and if she has decided if she will leave for D.C. with agent Pike (Pedro Pascal).
Lisbon tells him she hasn't made a final decision yet, and he tells her that he hopes she stays. But, only because she would get bored in D.C. Right Jane…
Jane and Lisbon's conversation is interrupted by two federal agents who arrest Jane, because Jane has ignored a federal subpoena. Lisbon and Fisher (Emily Swallow) are also subpoenaed to appear before a federal grand jury.
Both Fisher and Lisbon have to answer the prosecutor's questions about Jane, and how the FBI is allowing a murderer to work for them.
It's only after, that Lisbon and Fisher discover that it was all a sting, an operation to try to arrest a young mob boss, John Acardo. Needless to say, both Fisher and Lisbon are quite irritated no one informed them. Especially Lisbon, who just sent the prosecutor "to hell"…
Jane and Lisbon discuss what happened. Lisbon is obviously angry with Jane. Once again, he lied to her, and once again she thought he was gone.
The tension between the two is stronger than ever, and when Lisbon leaves the office with Agent Pike, Abbott (Rockmond Dunbar) and Jane have an interesting conversation about the situation:
Abbott: How long are you gonna let that go?

Jane: What?

Abbott: Well, you know he's gonna take her to Washington, right?

Jane: Listen, she'll do what she wants to do.

Abbott: You know, I've collared lots of con men over the years, best in the business. You know what led to their downfall ultimately?

Jane: Yeah. They start believing their own con. That's not gonna happen. There is no con here.

Abbott: No?

Jane: No.
During the investigation, Jane and Lisbon have another conversation:
Lisbon: I owe you an apology about the grand jury thing. I overreacted. You're just doing what Abbott told you to.

Jane: Oh. Did Marcus help you decide that?

Lisbon: As a matter of fact.

Jane: Right. Well, Marcus is wrong. I should have told you, and you were right to be cross with me.

Lisbon: I pled the fifth, by the way, in the grand jury room.

Jane: Figured as much.

Lisbon. You always know what I'm gonna do, huh?

Jane: Mostly.

Lisbon: One of these days, I might surprise you.

Jane: Please don't. I love that you're predictable.

Lisbon: Just what a girl wants to hear.

Jane: What does a girl want to hear?

Lisbon: I wish I knew.
Meanwhile, Cho (Tim kang) and Abbott keep on investigating the vast human smuggling ring. Eventually, they find out the real reason behind it: they're killing the kidnapped girls for their organs.
The next step will be to find out who is behind all this.
After the mob boss is finally arrested, Jane goes to Lisbon's house. He hopes to find her alone, to share a meal and talk, but Agent Pike opens the door, and Jane's hopes are (once again) crushed. He talks with Lisbon outside her house though, to tell her that "I really want you to be happy. And that is the most important thing to me — that you do what makes you happy."
Jane leaves Lisbon, who looks very upset and with tears in her eyes.
I have to say, even though I've never been a Jane/Lisbon shipper, it's really frustrating and at the same time heartbreaking watching these two damaged people trying to find a way to communicate, failing most of the times.
Lisbon wants Jane to give her a reason to stay, but she wants him to say it, out loud. Jane is probably thinking is doing the noble thing, letting her do what she wants, in order for her to be happy. But is she? He's also scared to let his past go, his wedding ring a constant reminder of that, scared to allow himself to find happiness again.
But Lisbon can't be there for him forever, not without a good reason now.
And with only two more episodes before the end of the Season, what's going to happen?
A new episode of The Mentalist airs next Sunday, May 11.