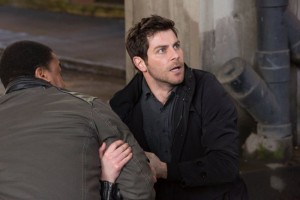 "Nobody knows the trouble I've seen, nobody knows my sorrow."
In this new episode of Grimm,"Nobody Knows the Trubel I've Seen", Adalind asks Nick's help to get Diana back from Prince Viktor, not knowing that her baby is with Nick's mother.
Meanwhile, a girl is walking alone on a dark night. A car stops and two men try to assault her. The two men are wesen.
The next day, Nick, Hank and Wu investigate the death… of the two men. Their car is gone.
Meanwhile, Adalind goes to talk to Monroe and Rosalee, asking for their help.
Nick tells Monroe to keep her there, until he figures out what to do.
In Austria, Prince Viktor receives the visit of his uncle, who wants to know who killed his son Eric. They also talk about what happened with Adalind's baby. He wants the baby in Austria.
Nick and Renard talk about the situation, and especially what to do with the FBI agent Steward who tried to attack Renard and Andalind. He's nowhere to be found, and they think he might try to kill Renard.
Thanks to surveillance Wu shows Nick and Hank the images of the girl who got attacked by the two wesen, and she's driving their car.
Meanwhile, that same girl has an encounter with another wesen and she kills her.
Adalind decides to call Prince Viktor. She asks for her baby back. He hungs up. During another conversation, Prince Viktor decides to take advance of the fact that Adalind thinks he has her baby. He will use her against Nick.
Meanwhile, Nick and Hank find a trace that might lead directly to the girl. She might stay at an hotel nearby. The girl's leaving.
While they drive to the hotel, Nick sees the her on the street, he follows her.
The girl tries to attack first Nick, then Monroe and Hank. Monroe realizes that she's a Grimm!
Nick tries to ask her who she is, but the girl's not talking, so they arrest her.
They manage to find out her name: Theresa Rubel, 21 years old from New York.
He last address is a psychiatric facility, so Nick and Hank figure that if she doesn't know she's a Grimm, she probably thinks she's gone crazy because of what she can see.
She has a diary in which she has drawn all the wesen she has seen so far.
Nick and Hank take Theresa to Nick's trailer. Nick shows her his book about the wesen, and tries to explain to her who is a Grimm.
Adalind goes to talk to Renard. She seems like she has forgiven him for giving Diana to the Royals.
Nick brings Theresa home with him. She tells Juliette that people use to call her Trubel…