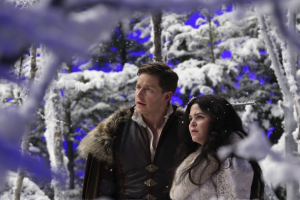 A lot went down on tonight's episode of Once Upon A Time. There were many answers and things just in general, were getting real.
Read on for our recap of episode 3×19 of Once Upon A Time: "A Curious Thing".
Half of this episode takes place in the Fairy Tale Land of the past year. We're finally going to find out what went down in those final days that no one can remember. The Charmings learn what it is Zelena wants. She has plans for their baby and after she turns Philip and Aurora into flying monkeys, they figure it's about time to come up with a new plan. Once again, I reiterate, Rebecca Mader needs to Calm. It. Down.

Upon learning that Rumple is alive, but a little mad, they go to see him for advice. He tells them to visit Glinda, the Good Witch. Snow and Charming continue to gross Regina out with their ~love and brace themselves as they enter Glinda's snowy realm of banishment. She says that light magic can defeat Zelena. Snow believes that Emma, the savior, will save them once again.
In a twist, Charming suggests that Snow crush his heart and be the one to cast the dark curse so everyone can get back to Storybrooke. What a great guy. In my head I'm like, "Pssht, whatever. Like that's gonna happen." BUT THEN IT DOES. CHARMING DIES SO REGINA CAN CAST THE CURSE. WHAT. Then stupid Zelena and her 99 cent party store green makeup show up to add a dash of forgetfulness to the potion.
Back in Storybrooke, the gang is working on a way to break the curse. They believe the key is in Henry. Emma was able to break the curse the first time by kissing him. But none of that is going to work if he doesn't remember anything to believe in. Snow finds the original story book that helped Henry in season 1 and they leave to take it to him.
Problem is, Henry booked it at the beginning of the episode. Zelena had promised to kill Henry if Hook didn't kiss Emma to drain her of her powers. Not wanting her to make good on her promise, Hook and Smee attempt to save Henry. Zelena's flying monkeys turn up and it's an all out battle when Emma, Regina, and the Charmings show up. Emma uses her light magic on Zelena and she is forced to leave.
Now that things have calmed down, Emma gives Henry the book and magically, his memories are restored. Well, that was easy. Once Henry remembers her, Regina rushes to kiss her son. Surprise! Regina is the new savior and it was her kiss and love for Henry that seems to have done the trick this time around.
Now that everyone has their memories, Emma is wondering how Charming is standing there before her. After his sacrifice, Snow had begged Regina to split her heart in half to save him. That's convenient. And now, only one question remains. If it wasn't them who sent Hook to get Emma, who was it?
Neal. Making sacrifices and being awesome as always. And my dear Oncers, if that wasn't enough? Snow goes into labor. We have a baby on the way!
Watch the promo for next week's episode "Kansas" here.