So are you still alright? Did you stop celebrating the basta…oops King Joffrey's death? Don't tell me you cried). So on this week's Game of Thrones, the Lannisters are mourning, plotting or trying to save themselves – those guys are quite polyvalent -, Jon gets some news from Ygrit and Daenerys shows what a leader she is.
The episode starts straight where we left last week, not even 10s later. Cersei holds Joffrey's dead body in her arms and yells to arrest Tyrion constantly accusing him of the crime. But leaves it to a Lannister to still have some logic in such a moment, she immediately thinks of Sansa and orders to find the girl.
Talking about Sansa, the little Stark girl is running away from the wedding helped by Dontos. Together they left King's Landing on a little rowboat and soon arrives to a bigger ship hiding in the fog. At first it sounds creepy and suspicious but quickly guess who is in the ship?… Lord Baelish himself. After he orders to kill Dontos to protect their secret, he tells Sansa that all of this was his plan (including the necklace story). Seriously? Well at least he has good arguments as he fears Sansa would be accused of the murder after all Joffrey killed her father and kept her prisoner. So she is safer with him, well that's what he said…still have big doubts about it.
Meanwhile in King's Landing, Olenna and Margaery discuss about is she a Queen or not considering their wedding hasn't been consumed yet. Even if he was a monster Margaery seems to be a little touched by Joffrey's death but a grandmother reassures her. Knowing how he was, she will be happier this way. At the same time,
people are mourning Joffrey and by people we mean Cersei and her son Tommen because nobody else cares. Even Tywin. He arrives in the Sept where Joffrey's remains are and takes advantage of his death to teach his last grandson how to be the next king. "What makes a good king?" he asks him. Holiness? No. Justice? No. Strength? No. Wisdom…apparently yes. For each of those qualities, Tywin mentions all the previous Kings and how they died because of them. Leaving the room together, Cersei is left alone with Jaime.
Cersei is really convinced that Tyrion killed her son and doesn't want him to be judged. She asks Jaime to kill him which he seems to refuse. Even if they didn't like each other, Jaime keeps in mind Tyrion is their brother and that he can't do such a thing. They both cry and kiss. Cersei refuses to continue but Jaime forces her and rapes her on the floor next to Joffrey's body. Way to go daddy.
In the Riverlands, the Hound and Arya continue to travel. They both met a nice farmer who proposes them a shelter and a dinner. The scene is hilarious as Arya presents the Hound as her father and of course the funnier is his head when she says it. The Hound accepts to work for the farmer but in the morning, he attacks him and steals him despite Arya's protests.
Back to King's Landing, Prince Oberyn and his wife/lover are engaging in an orgy (well, it wouldn't be Game of Thrones without a sex scene and naked people won't it? J But they're interrupted by Tywin who wants to speak with Oberyn. He thinks he is linked in a way with Joffrey's murder, after all the man has studied poison in the past. Oberyn refutes the accusation and doesn't forget to accuse the man of ordering The Mountain (aka Clegane) to rape and murder his sister. Tywin denies and proposes him to speak with Clegane but in exchange he has to be the third judge in Tyrion's trial. All this of course is a big plan to protect the Kingdom against the next attacks including Daenerys' dragons.
In his cell, Tyrion is waiting for his trial. Podrick, his squire, pays him a visit with some supplies and some news: Shae has been seen in King's landing which reassures Tyrion, but still I have huge doubts she left, which is not the case of Sansa. As noble as he is, Tyrion understands that her escape would appear as a proof of his guilty but he prefers this than having her in danger in the kingdom. He tries to find who could have plotted Joffrey's murder. Before leaving Podrick tells him, someone offers him knighthood if he testifies against him. Tyrion orders him to find Jaime as he needs to talk with him and then to leave the city admitting he prefers to die than having him in the middle of this mess.
In the North, the wilding party attacks a small village killing anybody they can. One of the man, grabs a young boy and forces him to run to Castle Black while he is going to "eat your dead mama and your dead papa. There, the boy tells everything to the Night's Watch including Jon who understand Ygrit was one of the attackers. But all of them agree that the only mission they have is to protect the wall but Jon remembers his lie to Mance Rayder about the 1 000 men protecting the wall. For him, they should leave and ride north and kill the mutineers before Mance learns the truth.
Across the Narrow Sea, Daenerys and her army arrives to Meereen, welcomed by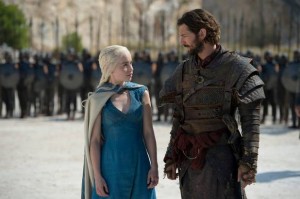 the population watching them from the top of the wall. The Champion of Meereen arrives to fight against them and shows how powerful he is by peeing in front of her. Apparently this is a symbol of manhood and power but he doesn't chock or even disgust Daenerys. The girl is definitely protected against any attacks now. She learns that someone from her army has to fight against the champion or she won't be able to enter the city. It's a "win or lose" scenario. But she is more than ready for this, it's not as if it was the first time for her. She decides to choose Dario who stands for long minutes motionless while the other champion is riding to him. Finally Dario throws his dagger into the eye of the Champion's horse making him fall and easily kills him. Daenerys then speaks to the people of the city who happens to be slaves, and not their masters. In their language, she explains how she had freed the slaves of Astapor and Yunkai who are now standing behind her. To prove it, she orders her army to catapult barrels full of broken slave collars as a sign of freedom.