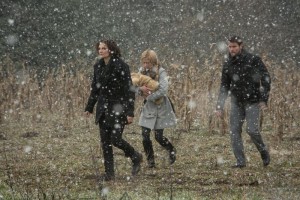 "In all chaos there is a cosmos, in all disorder a secret order".
Nick (David Giuntoli) is still very unsure if being Monroe's (Silas Weir Mitchell) Best Man is a good idea.
Hank asks him an interesting question: how does a wesen manage to understand when a person is a Grimm? It's time to find out.
In Switzerland, Adalind is rescued by no less than Nick's mother, Kelly.
Nick talks with Monroe and Rosalee. He explains to them his problem. But it looks like Monroe and Rosalee have the solution to Nick's problem: sunglasses.
Rosalee explains that wesen can understand if a person is a Grimm by looking in their eyes. If they don't, the problem is solved.
Prince Viktor puts together a squad to get Adalind back after she managed to escape.
While Nick's mother is travelling with Adalind, we get to see a flashback to Nick's childhood.
Nick is with her, but his aunt Marie comes to pick him up. He has to leave his mother.
Adalind and Kelly are finally in Portland.
In the meantime, Prince Wiktor's squad manages to track Adalind, and they understand she's back in Portland.
And, to Nick and Adalind's surprise, the safe place in which Nick's mother is leading Adalind, is indeed Nick's house. Juliette isn't happy either, given her history with Adalind.
Nick is furious, and he asks Kelly why Adalind's baby is so important for the Resistance, and why the Royals with Prince Viktor wants her so badly.
Kelly explains that the baby is just a few days old, but she is already showing certain powers. She also explains that the baby can't belong to the Resistance or the Royals. She has to live a normal childhood, in order for her to grow up as a good person. She will become extremely powerful, and it's important she grows up under a good influence.
But as they discuss that, Adalind manages to escape Nick's house with her baby.
Nick and Kelly figure out that Adalind is probably going to see Nick's captain, Sean Renard, since he's the baby's father.
Renard has finally the chance to hold his baby.