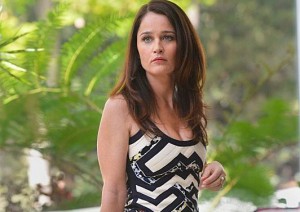 How to catch group of art thieves, Patrick Jane style? We know Jane, the old solid police work isn't his game. So, in this new episode of The Mentalist, "Violets", he plans a dangerous ruse to trap the thieves, engaging the whole FBI team too, of course.
This week, the FBI must investigate the death of John Hennigan, the owner of an art gallery. He was killed by a
group of art thieves, who then stole a lot of his paintings.
The FBI art-theft squad is working on the case, and Jane (Simon Baker) decides it's interesting enough to tell Abbott (Rockmond Dunbar) that they should get the case.
The involvement of the art-theft squad gives the show the chance to introduce a new character, special agent Marcus Pike (Pedro Pascal).
Pike explains that the art squad is looking for that group of thieves since a long time, and that they were able to
indentify just one of them, Aaron Pulaski.
Here enters Jane. His plan is to go undercover, lure the thieves with some beautiful art to steal, and catch them.
All the FBI team will be involved. Jane and Lisbon (Robin Tunney) will go undercover as a pretend couple, owners of a beautiful house full of wonderful art.
Abbott, Fisher (Emily Swallow), Cho (Tim Kang) and Wylie (Joe Adler) will all have their role in the ruse.
It becomes also clear that Agent Pike seems a lot interested in Lisbon. They share some moments during which Pike's interest is showing.
Jane's plan, as expected, works. The FBI successfully manages to arrest all the art thieves, including their boss, Edwin MacKaye, who killed John Hennigan.
Case closed, and Cho brings back the old CBI tradition of the case-closed pizza.
Meanwhile, Pike comes forward with Lisbon, and invites her out for dinner. Lisbon seems a little insecure, so Pike just says it out loud: "I like you, and I think you're a hell of a good-looking woman, and I'd love to get to know you better."
How can a woman say no?
This was not just a fun episode, during which we got to see the FBI team as we've never seen them before.
Jane got to deal with a woman who lost her husband (John Hennigan's wife). Jane tells her: "He's alive as long as you're alive to remember him. He lives in you", just as much as Jane's wife Angela is alive, and will always live in Jane.
After everything that happened, after all the emotions involved, Jane finds Lisbon and Pike who are about to leave.
After a moment of embarassment, Jane understands what's going on.
Lisbon and Pike leave for their date, and Jane is left alone.
This last scene is very bitter, very sad for Jane.
But, this could be finally his chance to understand better what he feels for Lisbon. Is he jealous because she's going out with another man, or is he simply tired, a bit shaken, and maybe wanted to spend some time with his best friend?
The fact that Lisbon seems to have found a genuine good guy who's interested in her, might do Jane good.
If he really feels something more for Teresa, if he's in love with her, Pike could be Jane's spur to finally accept his
feelings and just go for them.
This new "arc" certainly adds spice into the mix, and we can just look forward to what's coming next.
A new episode of The Mentalist will air Sunday April 13.