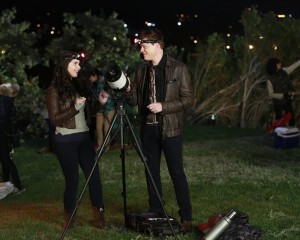 Bemmett?
Read on for our recap of season 3 episode 4 of Switched at Birth: "It Hurts To Wait With Love If Love Is Somewhere Else".
Bay (Vanessa Marano) is surprised by her own feelings when she learns that Emmett (Sean Berdy) is "dating" again. Yes, I put quotes around it because it's a girl he met online and I'm trying really hard not to roll my eyes. Her picture is kind of suspicious and quite frankly, I'm hoping he's being catfished. After getting an email from her ex boyfriend Ty, Bay decides to put it out of her mind. With a little help from Tank (Max Adler) and his gun show, Bay agrees to help Emmett with an astronomy project. A night under the stars? Hands up if you know where this is going.
Bay can't hide her jealousy for her own benefit… or mine as a viewer who is desperately pleading with her to save her own dignity. She ends up kissing Emmett and he's not interested. Emmett turns around and sings some Taylor Swift. "We are never, ever, ever, getting back together!" And then he blames that on Bay. Really? I think I missed the episode where Bay was the one to cheat. Apparently, because Bay can't "let that go", she's at fault. Personally, I don't think it should be "let go" or forgotten completely. However, Bay deletes the message from Ty without reading it and promises Emmett to never bring up what he did to her ever again.
Over in the parentals department, John (D.W. Moffett) and Kathryn (Lea Thompson) are still not seeing eye to eye. John surprises Kathryn with a trip to Nashville to spend some time together but she already wants to make plans with Enzo (Alec Mapa) in New York. I really feel like this fight could have been avoided if Kathryn had just switched things up. John was trying. However, John takes his spite and goes out and buys..a motorcycle. He's a mid-life crisis cliche! And it's one that doesn't last long. He crashes the bike and announces he won't be running for re-election.
Angelo (Gilles Marini) worries when a check he wrote for his restaurant venture bounces. His partner for the project is kind of an A-hole and I may have cheered when Angelo told her off. Regina (Constance Marie) learns that a decision must be made about which business to keep. Angelo's restaurant or her design business. After arguing over the fact that Angelo blew through 5 million dollars so quickly, Regina is forced to ask her new boss, Wes, for an advance. He agrees, but only if she works with him exclusively. Anyone else getting creeper vibes from him?
Things between Daphne (Katie LeClerc) and Campbell AKA Mr. Hot Wheels (R.J. Mitte) have gotten awkward. Now that Campbell's girlfriend is public knowledge, things are just getting weird between them. It's classic flirting around your oh so obvious feelings. But Daphne is hot property. She gets invited to a family party by her hot co-worker Jorge. Did I mention he was hot? She should consider him, to be honest.
Unfortunately, things at the party go sour when Jorge's sister learns that Daphne got in trouble for blackmailing Senator Coto. It's not okay to turn your back on a Latino and things at this party are about to get ugly. Did I mention that Jorge isn't ugly? I'm glad Daphne gets to kiss him a little bit. I'm not glad that it happened just as Campbell breaks up with his girlfriend.
Be sure to check out our recaps of your favorite shows both here and at Rickey.org.