by Dianna Berrian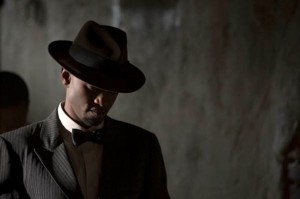 If you thought you were in trouble, deep, think again. 'Cause Papa don't preach. He harvests power from whatever supernatural thing he kills. Are you ready for this week's "The Originals"?
In tonight's episode we meet the new big bad to walk into town – Papa Tunde. He was last seen 100 years ago in the French Quarter, and now he's back to wreak havoc all thanks to Sabine/Celeste. In a flashback to 1919, Tunde interrupts a business meeting between Elijah, Klaus and a pair from the werewolf crime family. He means no harm, he just wants to be granted "fair tribute" for allowing the existence of vampires in the city. He even brought a gift basket. Because who doesn't love a town mayor's decapitated head for their mantle?
In the compound, present day, Diego approaches Marcel wondering why Klaus would order a meeting and not show up, but Marcel is too busy brooding over the loss of his witchy sidekick. Klaus eventually does show up, and not alone. He's decided to pardon Theirry's crime and welcome him back home. Wait, I thought Rebekah was…Okay, we'll just see how it goes.
Marcel: "You're in a good mood. Should visit Mystic Falls more often."
Hmm, I wonder why…
Whoops! How'd that get there?!
Klaus then proceeds to instruct Diego to do a rousting in The Cauldron, which to my understanding at this point, is the witchy district. In case anyone besides me was still not clear on that. Outside, Rebekah and Elijah have a brief discussion about Klaus' possible new leaf turned. Elijah's thrilled to see a merciful demonstration on his brother's part re: Thierry, but Rebekah douses his hopes by admitting she was the one who convinced Klaus to let him out. She then exposes herself and her plot to rise against Klaus with Thierry's aid, along with any other allies she can muster.
Rebekah: "If you want to stop a bully, you need the power to stand up to them."
This displeases Elijah because he truly believes his brother is making an effort. But Rebekah won't budge. Still, he pleads if she cannot support Klaus, at least do not provoke him. Yeah. Okay…
Back at the compound, Klaus gives Marcel a dose of reality and tells him to man up or else the rest of the men might start sloughing their duties as well. That's when Diego returns to report the problem of two missing vampires who showed up dead. But not just dead. There are no stakes, but rather symbols of witchcraft around them and etched into their foreheads. Klaus is furious, even moreso when Marcel walks away disinterested, but makes a promise to the vampires that he will find out who did this and make them suffer for it.
Thierry leads Rebekah to a warehouse where more mystical witch symbols are left behind. Supposedly, Rebekah concludes, whoever is doing this draws their power from sacrifice. And just as they realize it may be a trap, Tunde appears and works his magic on Rebekah until she is ashen and dessicated and gets the same brand on her forehead as the two other less fortunate vampires. Thierry, on the other hand, peaces out like there's no tomorrow. What a swell guy!
Klaus and Elijah are aggreived by the dark magic afoot, and Klaus asks his subjects who among them will fight to defend their home. When no one moves, he begrudgingly sets off to deal with it himself. Cami makes a cameo this week, calling Sophie in for disaster control at the restaurant but what she gets is a mopey Marcel walking in. She jumps to the defense but he just shrugs off her newfound knowledge and helps himself to a drink. He tells her the latest about Davina's death and she extends her condolences but can't figure out why he's still so loyal to Klaus if it was essentially his fault. He sees through her questioning, knowing she's mad and just wants to use her Psychology degree abilities to get back at him. Instead, he offers up a story from when he returned to New Orleans after WWI to a soiree held by none other than the Mikaelsons. He'd been trying to stay away but something – Rebekah – kept drawing him back. She's still bitter with him about being left for dead for 52 years but Klaus is more than happy to welcome him home. Then he has Marce settle an argument between himself and Elijah. With rogue witch Tunde running around, do they go with negotiations like Elijah suggests, or Klaus' suggestion of war? Before Marcel can answer, Tunde makes an appearance at the party. He couldn't figure out why Klaus would be so generous to someone he wanted to kill but in time, came to understand it was all part of the plan – to learn the weaknesses and strengths and get him to let his guard down and then he could go in for the kill. Cami says it's typical of the two-faced sociopathic monster, but Marcel argues they're all monsters. Klaus was just powerful.
Cami: "Davina was powerful. She wasn't a monster."
Fair point, Pysch student. You win…this time. Meanwhile, Hayley's still poring over Davina's drawings of Celeste. (What happened to leave it in the past, Miss Here and Now?) She finds it ironic that a supernatural threat is what it takes to get him in the same room, and Elijah actually apologizes for neglecting her. She's all, "Waaaah. Why won't you hang out with me? I said sorry for being a nosy bitch and disrespectful to your ex, what more do you waaaant? Gooooddd." And I'm all, "Get the hell over yourself, Hayley!" The guy is dealing with Klaus redemption issues, Rebekah rebelling against family both while trying to figure out where the power from the harvest went and a how to handle this new supernatural threat. And you expect him to be your little lap dog following after you and keeping you company when you're bored? Who – the hell – are you?
And speaking of burgeoning troubles, Rebekah is still lying on the ground looking dead. It goes from bad to worse as Tunde slits open a snake and pours its blood all over her then touches the symbol on her head to complete the spell. Sabine/Celeste walks out and he confirms that "the power of the Original sister flows through [him]." She asks if it will make Klaus suffer and he offers your usual villain answer: "When I am done, he will wish that he could die."
Klaus calls Marcel from The Cauldron, but Marcel says he's chasing down his own lead at Sophie's. After Marcel hangs up on him, Sophie just happens to walk up and gape at the symbols on the wall with him. That is, before he grabs her in a chokehold. Marcel continues to tell Cami more of the story from 1919. Tunde mostly wanted money and territory which Klaus and Elijah would not give up. So he went on a rampage. No one was safe, not humans, wolves, even witches who opposed him. Elijah offered a truce but Klaus showed up to the scheduled negotiation instead with his own parting gift in a box. After discovering Tunde had been channeling his twin sons' powers, he realized if they were struck down he would be weak and nearly useless. So, as expected now, Tunde opens the box to find both his sons' heads inside. Revenge is imminent but Klaus kills him and all is well. After hearing the tae, Cami can't help but ponder how Marcel doesn't worry he'll become one of Klaus' victims, or worse, just like him. But their bonding is cut short when Papa Tunde makes an entrance into the bar. Marcel warns Cami to run but she's a blonde (and we're a stubborn people, not dumb!) so she doesn't budge. Marcel tries to snap Tunde's neck but it just pops right back having no effect. And boom, Marcel is his next victim.
Elijah's getting worried about Rebekah not answering his calls, mostly because he's worried she has something to do with what's going on, what with her conspiring with others. So Elijah approaches Thierry to ask why Rebekah is so taken with him and when the vampire doesn't answer accordingly, Elijah goes badass and throws him against the wall, threatening to rip him limb from limb if he doesn't tell him everything. Thierry the coward caves and gives him the location at the docks, but please oh please don't tell Klaus! Elijah makes no promises cause he's Elijah and he answers to no one. Except Hayley who thinks they're as dynamic a duo as Sonny and Cher. Faaaaacepalm!
Sophie's explaining to Klaus how the symbols on the wall are signs of an offering when he gets the call from Cami about Tunde's attack. He tells her to run, too, but again, blondes don't listen. Simultaneously, Elijah and Hayley find Rebekah laying in the circle of offering but find they can't enter due to a boundary spell. However the hell, Elijah can fell someone's channeling her but she's an Original that can't die so she's an endless source of power. (Cool.) All the while, Tunde is continuing the offering with Marcel when Klaus interrupts, but he just throws Klaus back like it's nothing. When Klaus is too persistent, Tunde starts to attack him with his voodoo. Luckily, Elijah is talking to Sophie to get through the boundary spell. It boils down to need the blood of a witch to break the circle and it just so happens the demon spawn in Hayley's belly is ¼ witch. Gee. So naturally let's get baby blood from her wrist. Because that's logical. Whatever. It works, they get Rebekah out and suddenly Tunde is rendered powerless. Klaus hurries to Marcel and Tunde vanishes. But Marcel needs blood to heal. Against Klaus' wishes, Cami offers her neck and Marcel feeds, healing quickly.
Thierry is taking a stroll down the block when Rebekah attacks him for being a coward. Elijah cuts it short by snapping his neck. And since their conversation is epic on it's own, I couldn't paraphrase:
Elijah: "I asked you to cease these petty moves against our family and yet you conspire with this fool. Is this what it's come to? Making moves against your own blood?"

Rebekah: "Don't you try and shame me. Nik grows more powerful by the day. And you do nothing but encourage him."

Elijah: "I offer him my counsel because it's clear to me he means to make the city our home. And perhaps leading these derelicts will curb some of these impulses. Grant him some degree of happiness."

Rebekah: "You always talk of Nik's happiness. But for 1000 years he's robbed me of any chance of my own. What about me, Elijah? I'm not a concern for you?"

Elijah: "We all make sacrifices in the name of this family, Rebekah but know this. I will NEVER stand against you or Niklaus."

Rebekah: "What about Hayley? Nothing I conspire to do, none of my treachery will harm this family as much as your feelings for her. You're a hypocrite, Elijah. You would choose love over family and then condemn me for doing the same."
THANK YOU Rebekah, for finally calling him out on his crap. You go girl! And she does go. To the witch's store, where Marcel appears. They go down memory lane back to 1919 where it's revealed that Marcel is the one who brought Papa Tunde to town in the first place to drive away Klaus, or occupy him enough from stopping him from trying to get Rebekah back. Aww…that's…kind of…dysfunctionally sweet. And it appeals to her because all of a sudden Rebekah does the worst thing possible and reveals to him that the person Klaus feared most and would flee from was his father, Mikael, and all it would take to bring him there is a witch. REBEKAH MIKAELSON HOW COULD YOU!?
Brief nauseating moment when Hayley hears all the noise outside and looks out wistfully, not realizing Elijah is looking up at her wistfully. Then Klaus appears to make an announcement to his people:
Klaus: "Not long ago you all united against me. You failed. Since then, in my benevolence, I have wiped the slate clean yet it seems clear you think that I am the one who needs to earn your respect, your loyalty. You're mistaken. It is you who must prove yourselves to me. Our community is under attack. I require soldiers. I need warriors. Not cowards. Each of you has a decision to make. You either fight alongside me or you leave. Now."
They briefly talk amongst themselves before Thierry declares he'd rather leave that live under Klaus' rule and he bounces. Along with a group of others, but the majority stays. Awww, Klaus, look you got loyal peeps! Go you. He shares a victory drink with Marcel and moves on to the next item of business with a little help from Sophie. They all know someone hijacked the Harvest ritual to bring back 4 witches, just not the intended 4. So there's a chance if they regain control of the power, they can still save Davina. They just need to stop Tunde from sacrificing more nightwalkers.
Except Tunde got the jump on them and sucked the life out of the whole Garden community. He takes his snake tooth blade, which now contains power from all the harvested powers from the vampires, back to Sabine/Celeste for the final offering. Himself. Sabine/Celeste slits his throat and now has sole possession over the blade.
Would it be too much to ask for the blade to "accidentally" kill Hayley instead of Klaus in her quest for revenge? Just a tiny bit? Well, a girl can hope…