by Dianna Berrian
Get your body paints and glow sticks out. Tonight on "Teen Wolf", we're going to a rave. 
Kids are running amok destroying jack o'lanterns when an army of masked figures scare them off. The same ones who attacked Isaac last episode. Speaking of, Isaac is ice cold on the floor, shivering uncontrollably. Papa Argent starts beating him up so he'll turn to raise his body heat. And he starts to, eyes flashing yellow. He gives the best description he can of the 5 attackers – they wore black; were masked; had glowing greenish yellow eyes that resembled fireflies; and they came out of the shadows. Papa Argent instructs them to keep it secret and give him a day, worried the attackers may have actually been after him all along. When he goes into his office, he opens a box where a mask like the attackers sits broken in pieces. And the plot thickens!
Down at the police station, Papa McCall is questioning Stiles, Scott, Kira and Lydia about what happened at the power plant, not buying all their convenient deductions and just so happened to be theres. He releases them but confiscates Kira's phone. Before Scott leaves, he pulls him aside to tell them he knows they were lying and if that message was left for Barrow, that he was just a pawn in a much bigger game. And while a mass murderer is bad enough, being a controlled by someone = far worse. Gee, you think? It's like he's new in town or something.
Kira heads home to light a candle and take a picture of herself in mirror with the flash. When she looks at it, she's surrounded by a golden glow. So I guess she'll need her phone back… While the town is still without power, school is still in session. Stiles finds a set of keys in his locker and manages to grab Scott before he can go talk to Kira. Whatever she is, better not to fraternize with what may be an enemy, he figures. In the locker room, Ethan (or was that one Aidan?) overhears Danny's halloween party being cancelled and sympathizes. When Aidan turns a cheek at his brother's pining, Ethan clarifies something for him:
Ethan: "Scott doesn't care about power. He cares about people. You wanna be a wolf in his pack? Try being a human in highschool."
So, in an effort to try and be more humane, Aidan starts with Lydia. (By the way, her mom's teaching Biology now, since their former Bio teacher was sacrificed in a ritual last season.) But when she looks at him, all she can think about is how he helped kill Boyd. He's not just a bad boy, he's a bad guy and she doesn't wanna be with the bad guys. Put off by her lack of faith, he turns around and offers a place for Danny's party out of the goodness of his heart.
In the hallway, Scott finds Kira studying and joins her. They don't talk about what happened and he decides they can study for Precalc. But instead, she asks him to take a picture with flash. He looks at it and sees the glow around her. This is the first time she's shown anyone, and she doesn't know what it is or why, just that it only happens with the flash on. It's also why they need to get her phone back.
Derek makes his brief cameo as he rolls back in town and is immediately hit up by trick or treaters at his…truck? Okay, we'll go with it. He gives them their candy, then scares them with wolf face. Ain't he just a sweetie? Then, suddenly, one of those masked shadow creatures shows up to attack!
Stiles gives Scott and Kira the pass keys for the police station and the office they need to get in and pull off their mission impossible scheme.
Scott: "You didn't steal these, did you?"

Stiles: "No. Cloned em. Using a RIFD emulator."

Scott: "Isn't that worse than stealing?"

Stiles: "…Smarter."
They proceed to sneak in and, with much suspense, retrieve her phone. Too bad the phone is dead. But they can't take it because it's evidence so they'll have to charge it. Oh yeah, the power's out in the whole town. Now what? Aha. Papa McCall's laptop is charged. They quickly find a charger cable in his desk and it's a race for time as they wait for it to get enough juice to turn on. Outside, Stiles catches Agent McCall heading in and bolts to try to stall him. Eventually they pull it off and scat, just in time to make it to the party at Derek's abandoned residence.
The theme is rave and it's almost like an art-deco vibe with all the neon body paints and the black light illuminating them. Everyone is painted up as neon monsters and music blasting, strobe lights flashing. While Danny gets himself painted, every so often one of the shadowy figures shows up and then vanishes in the flicker of the strobe lights. Ethan heads back to get more ice but the light bulb keeps going in and out. In the flickers we see the masked guys show up and before he knows it, Ethan is being attacked.
Kira, Scott and Stiles show to the party unfashionably late. Stiles gets a kiss on the cheek from random stranger and takes off after her. Scott, in the interim, makes nice with Kira and winds up holding hands. That is, until he sees Allison across the room and is suddenly all, what is air?? Kira drops her hand and disappears but as soon as Scott is bumped out of his Allison trance, he scans the crowd with his alpha eyes and sees her glow, almost like an animal head is taking shape in it. She wonders how he could be okay with it and he says it looks like it's protecting her. It looks like a fox. Scott, you smooth talker, you!
Aiden keeps trying to butter up Lydia but it's not working. Allison and Isaac, on the other hand, seem to have enough sexual electricity to light the whole town back up. There's a slight implication about keeping secrets from Scott, but when he makes an innuendo, she takes him up on it and disappears to the dance floor to grab a paint brush and takes her shirt off.
Allison: "Do you want to talk about Scott or do you want to paint my body?"
Is that a trick question? Meanwhile, Lydia is by her lonesome, watching her friends pair off. That's when she sees one of the masked figures. She calls out Scott's name, but it falls on deaf ears so she opts to run outside for air away from the creeper. Unfortunately, it finds her anyway, crawling out of the ground. She screams and turns to run but another one appears to grab her and steals her scream away. Its eyes do their firefly glow and suddenly she falls into a daze.
Inside, Danny stops Aidan, looking for Ethan. His quest for ice has taken too long so the two go off to look for him. Stiles, in the meantime, is having a great time hooking up with the now apparently bisexual Kaitlynn whose girlfriend was another victim of last season's rituals. The keys from his locker slip out somehow and they find the same glowing substance on them as their is in the body pain. How'd he get it on the keys…? He pulls his usual eureka moment and is sorry to have to go. But he adorably promises he'd stay the whole night, and doesn't want to offend her, but has to go. Before leaving, he returns with a bottle of water for her to drink to sober up. Stahp, Stiles!
Allison and Isaac are getting very close and touchy, with lots of sexual tension on the dance floor. They come so very close to kissing until Allison feels something behind his hear. They go to the bathroom and discover it's a 5, basically tattooed into his skin. That's when they hear a sound and find Ethan shivering on the floor, close to death. Simultaneously, Danny and Aidan find Lydia shivering outside. They bring her in to warm her by the heating vent and Aidan holds her for body heat. In the supply closet, Isaac breaks Ethan's arm to trigger the healing. Both Lydia and Ethan have the #5 behind their ear. And now, Derek has it too. He roars, furiously, and that alerts Scott that he's baaaaaack!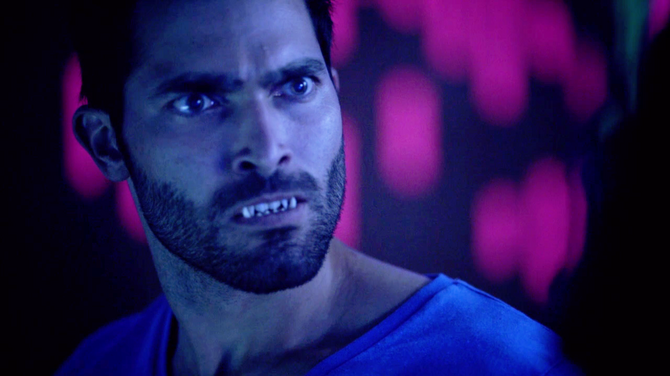 Derek walks into the party, smashes the DJ stand and shouts for them all to get out. Not thinking twice, everyone books it out of there, Danny taking Lydia with him. When the place empties, all that remain are these figures and the usual wolf suspects. They figures are all looking at Aidan. Scott and Derek run to attack but they keep disappearing. Derek tries to snap one's neck but he comes back from it. Isaac runs up claws beared to attack but they manifest a sword and he backs away. And they are still all looking at Aidan with their glowy eyes until they capture his gaze and brand him with the 5. They turn to go after Scott and he shows his alpha face where Kira can see. Luckily, the sun comes up and they wisp away.
Back at the Argent residence, Papa Argent just barely makes it through the door before collapsing and bleeding. And Stiles is back at the school, discovering the keys he found led to the Chemistry lab. The coded message to kill Kira is still on the blackboard and with a sneaking suspicion, he shakily picks up a piece of chalk and writes the same numbers next to the old ones. Dun dun dun! The handwriting is exactly the same, so the person who dictated Barrow's actions was…Stiles!?
This show just got a whole lot crazier.