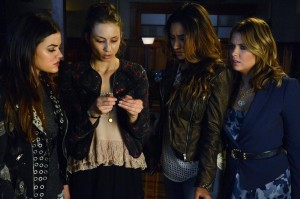 If you're like me, you're tired of the girls of Pretty Little Liars not connecting any of the dots. The mysteries are just dragging out. Tonight, one of them finally makes a connection and a new secret is revealed. But who will believe her?
Read on for our recap of episode 4×17 "Bite Your Tongue".
Aria isn't thrilled when she comes home to her brother throwing an out of control party. Even worse? It's not the random couple making out on their desk. It's that Mona was on the guest list. And who knows what she was doing upstairs. The show decides that it's fitting to introduce a new "hot" guy who works at the school. He's a guidance counselor and he's encouraging the fact that Mike and Mona are hooking up. Gross. Why is everyone forgetting what Mona did? She's still looking suspicious with all these meetings with Ezra…
Emily is still holding a major grudge against Spencer after last week. Emily becomes super paranoid when she realizes A was responsible for her car breaking down. While working at school late at night, someone in a dark hoody locks her in. Emily panics and screams for her father to come get her. Emily's dad then morphs into Spiderman and climbs the wall to get to the window of the school. They both get down safely and then he collapses. He confesses to Emily that the real reason he's home is because of a heart problem.
Hanna has been brushing up on her James Patterson crime novels and is using them as inspiration to figure out who A is. Hanna is inspired by a recent visit from Sean Faris' character. She heads to the dentist to look at the dental records to try and figure out who is in the ground if Alison isn't. Unfortunately, A has other plans in mind. Hanna is knocked out and has a message DRILLED INTO HER TEETH. AHH.
"I told you dead girls can't smile. Stop looking."
In case you were wondering, that certain someone also stole the files. All I was able to see was the name C. Cavanaugh. Let's hope for a screencap soon.
Edit: Thanks Tumblr:
Spencer is joining Hanna in the investigating but she's got a little help from her friends. No, not those friends. She convinces Andrew to give her pills to stay awake and it's not long before Spencer just ends up looking like crap. This won't end well. I'm hoping for a Saved By The Bell type breakdown. "I'M SO EXCITED! I'M SO…SCARED."
But she gets stuff done! After studying the journal scans for clues, Spencer is led to a pub that Ali went to with her older guy. As soon as she walks in, Spencer sees Ezra eating a piece of boysenberry pie with a beer. The same order as the older guy. Ezra's beer of choice?
Board Shorts Ale.
I can't.