by Dianna Berrian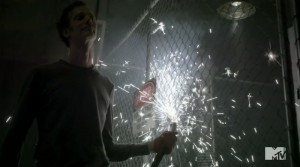 Practical jokes, tons of chemistry, awkward meeting with the parents, and sparks flying. No, it isn't love. It's just another episode of Teen Wolf.
At Beacon Hills Memorial hospital, William Barrow, a former electrical engineer gone bad, is escorted in in need of an operation to remove years old shrapnel from piercing his heart. His crime against humanity? Walking onto a school bus with a shrapnel bomb, leaving 4 students dead and a 5th with no legs. And rumor has it that when he gets out, "he's gonna do it again. And this time, he's gonna get it right." Well isn't that exactly what you want to hear right before you go in to do the Pre-Op interview? Since no one else is asking, Nurse McCalls braves the question on everyone's minds during the pre-op. Why'd he do it?
"I saw their eyes. Their eyes were glowing. I saw them." – William Barrow
When they begin operating on his heart, it starts to swell and convulse, growing in size until it explodes into a swarm of flies. Barrow wakes up, sitting up straight, and slits the doctor's throat with scalpel before he escapes. Melissa tells the Sheriff what happened, including the bit about the glowing eyes. No surprise that the ambulance Barrow stole shows up 3 blocks away from the high school. Where several students have "glowing eyes." Ruh roh!
At the high school, the former alpha twins stop by to talk to Scott and Stiles. Well, mainly Scott. He needs a pack, and they need an alpha. So why not kill two birds with one stone? May…be because he doesn't trust you? Hmm. As he walks away, he leaves them with no other choice but to go back and finish high school.

Aidan: "We're not just betas anymore, we're omegas. The bitches. Remember? … We're dead on our own."
Ethan: "That's still better than being back in high school."


With a little helpful coaxing from an unbeknownst Danny making a move on another man, Ethan finally agrees. In the meantime, Stiles catches Scott staring at Kira and, as per usual, puts two and two together quick. He tells his buddy to stop pining and ask her out, he's got nothing to lose.

Stiles: "You're like the hot girl that every guy wants."
Scott: "The hot girl?"
Stiles: "You are the hottest girl."
Scott: "I'm the hot girl."
Isaac: (who shows up out of nowhere) Yes, you are.
Boys…
And speaking of which, we check in with the Hales to see Derek sewing Peter's finger back on. Finally, we get to see what's inside the ominous cylinder and it turns out to be the claws of Derek's mother. It was all that was left after the fire. Supposedly, they are also a way for him to communicate with her.
Later, Aiden approaches Lydia with nothing but a smirk. Any other girl would melt, but Lydia's got a stronger will:
"Oh no. I don't think so. There's no way you come back here after 2 weeks of nothing with your cute little smile, the dark eyes, the brooding forehead, the muscles and suddenly we're ripping each other's clothes off in Coach's office? No way. It's not gonna happen."
But it does. Except Coach's office is a little messy, so guidance office it is! Good thing because the psycho killer is there lurking and stapling himself back together. Melissa and Sheriff Stilinksi show up and he tells Stiles show up on the scene and word of the mysterious swarm of flies from his stomach travels through the grapevine to the usual suspects. The buzzing sounds Lydia's been hearing all day suddenly start to make sense. But when the police begin to leave, Lydia panics. The buzzing is getting louder so he has to be there. Stiles runs to stop his dad even though they had an eyewitness spot Barrow, so he tells him about Lydia's banshee…ness. We can sympathize with the Sheriff's disbelief but at least he compromises and has the school on lockdown – no one goes in or out. Except Melissa who stopped by to drop off Scott's lunch. No, wait. That's Barrow's hospital gown with his scent on it. Aw, you're learning Mama McCall!
While Scott, Isaac, Ethan and Aidan break off to sniff him out, Allison breaks out to check her Beastiary for flies. Stiles and Lydia are paired off as the brains of the operation, as always, when they realize all of the wolves with glowing eyes are together in the basement in the boiler room. And the whole school can be blown up from the boiler room! Thinking on his feet, Stiles pulls the fire alarm to evacuate the building. What's a week's worth of detention when you're saving a few lives?
Back to Peter and Derek…Peter wants something out of doing the ritual to communicate with Derek's mom. He wants to keep the claws. And once they're all lined up inside the cylinder, points upward, he slowly sticks his hand in, hesitating. An impatient Derek shoves his fingers down and the claws latch on to his own. When they're secure, he stabs them into the back of Derek's neck. Derek wakes up in a very blue spirit state right in front of the Nemeton. A wolf, presumably his mom, pads out then runs up on to the Nemeton. Nothing of consequence is shown on screen before Derek wakes up sweating, heavily breathing. What exactly are the Hales up to? And where's Cora?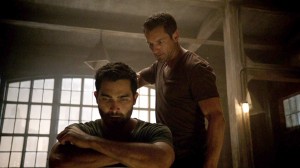 On a completely different note, Mr. Yukimura invited Scott to a sushi dinner to thank him for saving Kira from the coyote. I don't smell ulterior motives at all! During the meal, she teaches Scott how to hold the chopsticks, but he drops his piece and she catches it with hers expertly, proceeding feeds him. …Can't tell if parents approve or disapprove? Regardless, a short history lesson of their Korean-Japanese heritage is discussed, in which Kira's father actually took her mother's surname since she was the last living descendant of her family. I wonder what this will all be relevant to…
At the Stilinksi residence, Lydia and Stiles are going over his investigation boards trying to make sense of the current case.  She feels bad that they had no proof of Barrow being at school, and even worse for getting him trouble. He reassures her, but a whiff of his sharpie prompts them to return to school to the Chemistry room, in the closet where Barrow was first hiding. The chemicals masked his scent. Aha. In the Chem lab itself, atomic numbers are written on the board. And the numbers use elements and compounds to spell out K-I-RA. Dun dun DUNNNN!
Allison, all the while, is busy researching bugs when Isaac shows up to offer help. But the only help he offers is help getting her shirt off, which doesn't exactly bode well for him when Papa Argent walks in:
"Allison. Can I see you in my office? Where I keep my guns?" (Two seconds later…) "ANOTHER WEREWOLF!?"
Teehee.
While saying good night to Kira, Scott gets knocked on the head by Barrow. He comes to with Stiles and Lydia hovering and alerts them that Barrow took Kira, but they already knew. Lydia's freaking out because she hears nothing and doesn't know what to do. But it feels like the answer is on the tip of her tongue, infuriatingly enough to make her scream. True to banshee nature, the scream is the key. It's not flies, it's electricity. To the power plant!
Holding Kira captive against a chain link fence, Barrow takes a picture on her phone to preserve the memory and show proof to all those people who never believed him. I'm guessing the pictures will show up later when Stiles and Scott go searching and see her eyes glow in them… Anyway, Barrow has a split wire, flickering with sparks. Scott and Stiles split up to find them and Scott is on the scene immediately but Barrow hits him with the wire and he goes flying. When he finally touches the sparks to Kira's cheek, the entire plant goes wild with electricity and glowing flies recreate Kira's body. The end result is a blackout in the entire town. And some shock, on Scott's part.
As the lights flicker at the Argent household, Isaac is all alone and suddenly surrounded by a group of masked shadow figures. The door slams shut and all that can be heard is the sound of him being beaten while Allison and Papa Argent pound on the door. Well, at least Isaac will have something new to milk for a while.