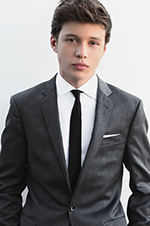 This is getting so exciting! More and more casting news for Jurassic World is being released! First, the news that Ty Simpkins would be joining the cast as the token kid was released and now, that character is getting an older brother. THR reports that Nick Robinson is heading to Jurassic World. The cast is said to be an ensemble. Nick can be seen on ABC Family's Melissa & Joey and Kings of Summer.
Bryce Dallas Howard is another name that has been constantly rumored as well. Will she be playing the mom? And more importantly, how long will Steven Spielberg torture us like this? Please make Jeff Goldblum and Sam Neill a part of this epic adventure.
Along with Nick Robinson, who are you hoping will appear in the movie?
The fourth installment in the Jurassic Park franchise is slated to hit theaters June 12th, 2015.