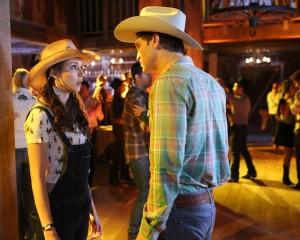 We are just one episode away from the season finale of Pretty Little Liars. Will we learn anything this episode? Probably not. But let's go over what did happen.
In case you're wondering, Rosewood is having yet another dance. I don't know why these girls go to dances. Nothing good ever happens there.
Pretty Little Liars 4×11 "Bring Down The Hoe" Recap:
Jeepers Creepers
The new detective is back in town and apparently sees nothing wrong with visiting the girls at school without their legal guardian. She informs them she found a muddy shoe and it's only a matter of time before they find who it belongs to. This is all too much for Hanna to handle so she books it out of there.
She's not thrilled when she discovers a mysterious envelope full of cash in her locker with a message about her mom. Then she notices a new guy creeping on her and watching her. I don't want to learn about any more characters.
Turns out this guy gave Hanna the money because A tried to pay him off for what he knew. He was in the woods that night to tow Wilden's car out of the lake. He saw Ashley leave the woods and is sure he heard the gun shots after she left. He thinks he saw a girl run away. Hanna convinces him to tell the cops what he knows.
Hoe Down
This is Pennsylvania. Why are we having a Hoe Down?
Things are tense between Spoby because Spencer wants Toby to stop playing into A's traps. The girls can tell Spencer is up to something and then the funniest thing happens. Aria, of all people, tells Spencer she shouldn't be putting her relationship above her friends and giving that her full attention.
I really think I laughed for a solid minute there.
Jake and Ezra meet and Jake tells Ezra to back off. I hope Ezra tosses him in the lake.
When A leaves a disc of Toby's mom singing in his car, he's more determined than ever to follow A's next clue. Unable to stop him, Spencer begs Caleb to follow him. When Caleb gets there, Toby is breaking into Dr. Palmer's old car and then the cops show up. Fools.
So very little happens in these episodes that I'm struggling to understand why we need like, a 5 minute Hoe Down dance sequence. Did this turn into Step Up 2 or something? No thank you.
Red Coat Revealed?
The girls investigate the crawl space of the house and are frightened when they hear someone walking around upstairs. Someone who isn't Mrs. DiLaurentis. Emily has had enough of this crap and moves into Spencer's house. I kind of love that she barely asked her if it was okay.
Emily then suddenly remembers a time when Ali detailed breaking up with a friend's boyfriend for her. Said boyfriend then pulled a gun on her. Boyfriend does not go to their school…anymore. Quick. Draft a list of people that used to go to that school. Was Ezra one of them? I won't let this theory die.
Cut to an angry CeCe on the phone telling someone to meet her. She doesn't want to return to Rosewood. She's in a room full of Ali articles and there's a red coat in the corner. Is it her coat? Did she find A's lair? I hate her. I don't want her to be Red Coat. Emily and Spencer spot Red Coat at the dance and try to follow her in the truck. Then they spy a red coat moving in the back..only to have whatever was moving it disappear. How is that possible? This isn't Ravenswood.
At the end of the episode, Aria meets with Ezra to hear about Malcolm and CeCe is listening at the door decked out in her favorite black hoody. Ugh.
Check out the preview and sneak peeks for the season finale of Pretty Little Liars: World War A: "Now You See Me, Now You Don't."