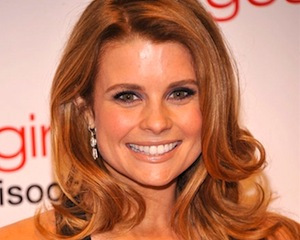 We have our Ariel! Joanna Garcia Swisher has just been announced for season 3 of Once Upon A Time. The actress will be playing everyone's favorite little mermaid and is set to make a splash as Ariel when the show returns in September.
Via TVLine:
An ABC rep confirms for TVLine that the Reba/Privileged alum will play the mermaid with moxie in at least two episodes, starting with the sixth installment of Season 3. TV Guide Magazine first reported on the casting.

Although Ariel's appearance on the show — and often with Swisher's name loosely attached — has been rumored since Season 1, the character's Season 3 debut was confirmed at last month's Comic-Con, in a teaser reel that showed a mysterious being sneaking up on a dwarf, stealing the fork (!) out of his lunchbox and vanishing into the ocean. Then, with the flick of a glistening fin, the redhead revealed herself and swam away.
Despite what it looks like in the Comic-Con preview, Ariel will not be appearing in Storybrooke. We'll be seeing her in another realm. Neverland? Or a return trip to Fairy Tale Land?
I'm pretty happy with this casting choice. The only other actress floating around in my head was Deborah Ann Woll from True Blood, if only because she's technically still playing a teenager.
Once Upon A Time returns with season 3 on September 29th.