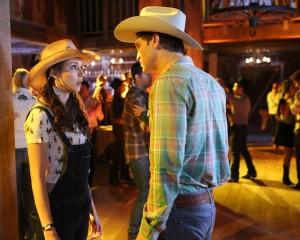 Will the girls finally see Red Coat? Is Spoby once again on the rocks? Why does this town have so many dances?
Pretty Little Liars airs Tuesdays on ABC Family.
Check out the preview promo for next week's new episode of Pretty Little Liars: "Bring The Hoe Down."
Video:
Pretty Little Liars 4×11 PLL 'Bring the Hoe Down' – The girls try to corner "A" at their school's hoedown. Meanwhile, Hanna is stalked by a classmate who has an explosive secret; Ezra seeks help from Aria just as she decides to commit to Jake; and "A" continues to manipulate Toby by promising to reveal info about his mom's death.
Check out our recap of tonight's episode of Pretty Little Liars: "The Mirror Has Three Faces."