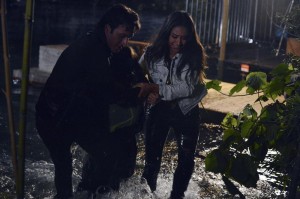 Oh no! Why do so many look to be in danger next week on Pretty Little Liars?? Why is Shana so upset? Did something happen to Jenna? And just who is floating in the lake?
Check out the preview for next week's episode of Pretty Little Liars 4×09: "Into The Deep."
Video:
Pretty Little Liars 4×09 PLL 'Into the Deep' – Paige throws Emily a surprise birthday party with unexpected guests: Jenna and Shana. Meanwhile, Mona helps out Hanna and Ashley; Ezra receives some upsetting news; and Emily meets with a prestigious swimming coach.
Check out our recap of tonight's episode "The Guilty Girl's Handbook" here.