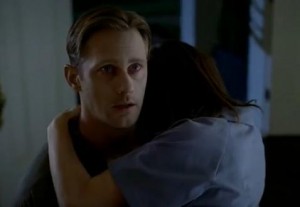 A tragedy hits close to home for everyone in Bon Temps in next week's episode of True Blood. Meanwhile, the vampire have to worry about a new and infected batch of Tru Blood destroying their race.
Check out the preview promo for next week's episode of True Blood: "In The Evening."
Video:
True Blood 6×07 'In the Evening' – Episode #67 – Eric (Alexander Skarsgård) makes a last-ditch effort to save an ailing Nora (Lucy Griffiths).   A tragedy close to home forces Sam (Sam Trammell) to ignore Alcide's (Joe Manganiello) warning and return to Bon Temps.  Jessica (Deborah Ann Woll) shows her gratitude to James (Luke Grimes), a fellow incarcerated vamp, while an emboldened Sarah (Anna Camp) exacts a measure of revenge on Jason (Ryan Kwanten).
Check out our recap of tonight's episode "Don't You Feel Me?" here.