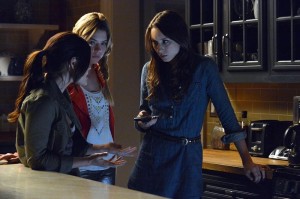 Yikes! Judging by this promo, A isn't stopping anytime soon when it comes to torturing the girls. And it looks like it's Emily's turn to feel the wrath of A once again. In next week's episode, A makes a move that could have devastating results for one of the liars.
Pretty Little Liars airs Tuesdays on ABC Family.
Check out the sneak peeks of next week's episode of Pretty Little Liars: "Turn of the Shoe."
Video:
PRETTY LITTLE LIARS – "Turn of the Shoe" – "A" makes a drastic move which leads to potentially devastating circumstances for Emily in "Turn of the Shoe," an all new episode of ABC Family's hit original series "Pretty Little Liars," airing Tuesday, June 18th  (8:00 – 9:00 PM ET/PT). After A's latest attack, Emily turns to desperate measures to protect her future. (ABC FAMILY/Eric McCandless)
Mrs. DiLaurentis' presence in Rosewood continues to unnerve all those around her, especially when she gives Hanna a family parrot, whose gift for mimicry provides startling insight into Alison's last days. Tired of feeling defenseless against A, Aria decides to learn self defense and is intrigued by her sexy instructor. Meanwhile, Toby shares a heartbreaking secret with Spencer, and Hanna makes an alarming discovery regarding her mom.
Update: Check out our recap of the episode here.