When Greenleaf first graced our screens in 2016, it was immediately obvious the show was destined for greatness. The premiere became the No. 1 series debut in OWN history, and the folks at Calvary Fellowship World Ministries haven't looked back. The same could be said of Asia'h Epperson, whose character Tasha Skanks – wife of embattled Triumph Church Pastor Basie Skanks – burst onto the scene in the show's fifth episode.
Ahead of tonight's Greenleaf season 3 premiere, Asia'h told us all about what to expect from the season, how Oprah Winfrey takes a special interest in her character, what it's like working with Lynn Whitfield, and more. And did we mention Asia'h is also set to star in the upcoming BET bio-series The Bobby Brown Story? She gave us the 411 on that as well.
Read on for Pop City Life's interview with Asia'h Epperson.
In the final episode of Greenleaf season 2, we learned that the mysterious Rochelle is actually Basie's sister. What's more, she's working with Basie to take down Bishop and the rest of the family. What role does Tasha play in this scheme going into season 3?
Asia'h Epperson: Well, I'm his wife, for one, and I'm on a mission to get revenge. [Basie] sent Rochelle to be his eyes and ears and make sure that I follow through on every single thing that I set out to do, which is very intimidating because Rochelle is super-scary! She intimidates Tasha. She intimidates Asia'h! When we step on set, I'm like, "Oh, God, here we go." It's very intense because Tasha is really battling this season. She thought that she would be all in – and in the beginning, she is, but then it really starts to eat at her and she's like, "Oh my gosh, what am I doing? I'm destroying an entire family, I'm destroying a legacy, I'm destroying a church." It looks like Tasha's the villain, but she's really not. It's really Rochelle and Basie, but they kind of throw Tasha in the fire because she's likeable. You want to not like her, but there's still something there. I think that's something Rochelle and Basie don't have, so it would be obvious if it was coming from them. It's not as obvious coming from Tasha because Tasha still has that very likeable element to her. She battles with a lot this season, which is really fun to play.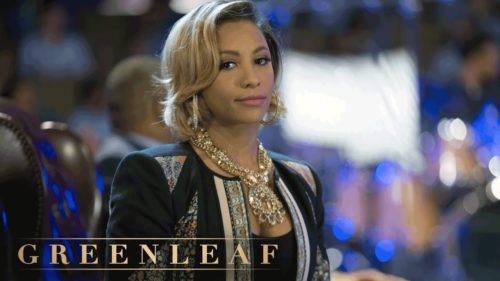 It sounds like the question of which side Tasha's actually on will continue to be asked in season 3. What can you tell us about Tasha playing both sides? Where do her loyalties truly lie?
She loves her husband, so her loyalty is to her husband, but there's this relationship that she builds with this family when she's left there. She works with the church still, and she gets close with Jacob. They form a friendship, and she's now invested in this family and this church. Now she's like, "OK, I know I'm on a mission to get revenge for my husband, but two wrongs don't make a right. There has to be another way; I can't just take down this entire family." She definitely loves Basie and wants to do whatever she can for her family, but at the same time, she's playing the fence and going back and forth. She starts off solid and with confidence, but as time progresses and the relationships progress within the Greenleaf family and within the church, that's when it starts to really bother her.
We saw Jacob comforting Tasha after Basie left town in season 2, and the season 3 trailer seems to hint at a deepening connection between the two of them. How will viewers see their relationship evolve over the course of the season?
She works at the church now, and she works for Jacob, so she's there every day with him. He's going through his own struggles with his daughter Zora leaving, and with his wife Kerissa. He's having issues on his home front and I'm having issues on my home front, but we still have to make sure this church is running – and I still have to make sure I'm doing my part taking this church down! So I'm trying to help him and hurt him at the same time, but we develop this friendship and this relationship where we depend on each other and we're there for each other because we're both kind of lonely. We're both kind of estranged from our partners, what with him and Kerissa being in the state that they're in and Basie not being around. We're in it together and running this church. Well, he thinks we're running it, but I'm running it into the ground!
Tasha is definitely a character. What are your favorite things about playing her, and if you met her in real life, do you think the two of you would get along?
I love playing Tasha because Oprah's so involved in Tasha and her development – down to her nail color. On set, they're like, "OK, we have to take a picture of your nails because Lady O said that this episode, we need it like this," and I'm like, "Oh my God, Lady O is looking at my fingernails?!" I just love the fact that she's so involved in Tasha's aesthetic: her nails, her hair, her outfits, her whole thing. It's fun to get made up and dressed up every day. I'm a very casual, easy-breezy, natural girl; I don't really do too much on a regular basis, so it's fun to go into work and be made up! And I love the fact that every episode is surprising. I never know what they're going to do with Tasha and what challenges she's going to be faced with. When I auditioned for the role of Tasha, it was only supposed to be one episode, possible recurring, so I don't think anybody knew what was going to happen. Every week, I think the writers are surprised and I'm surprised. They've given her so many levels.
This season, Tasha is going to make you laugh, she's gonna make you cry, and she's gonna make you mad. You're not gonna know what to feel about Tasha, and that's the thing that I love. She's just gonna give you so many things this season – you're not gonna know if you like her or if you hate her, if you feel bad for her or if you don't feel bad for her. Her character has developed so much, and that's a fun thing about playing her. I'm always surprised every time I get the script. And if I met her in real life, yeah, I probably would be friends with her. I probably would like her because I love people who are straightforward in who they are, people with personality, people who aren't ashamed, and I feel like she stepped onto the scene like that.
Tasha Skanks love her nails!! 💅🏼 pic.twitter.com/vSQ0vauHFl

— Asia'h Epperson (@AsiahEpperson) March 31, 2017
If you could play any other character on the show, regardless of age or gender, who would you choose and why?
Ooh, that's a good question. I would probably like to play Zora – I like the challenges that she's having as a young woman. As women, we've all probably been there at some point or we know someone who was there. We were either Zora or we were Sophia. I think I would enjoy playing Zora's part because it shines light on the challenges you go through growing up: the boys and the faith and going back and forth with God and your family dynamic and everything like that.
The Greenleaf cast includes living legends like Keith David, Lynn Whitfield and, of course, Oprah Winfrey. What has it been like to work with them, and what have you learned from that experience?
It's been amazing. I mean, what a learning experience! The first time I got the script and it showed I was going to have a scene with Lynn, I was like, "Oh my gosh. OK, Asia'h. Here it is. You're getting ready to be face to face, side by side with Lynn Whitfield." I mean, she's a veteran. She is like, the queen of drama. Her energy is so intense, so I was just like, "Here we go." First of all, she made me feel so good, and I just thank her so much for that. Then she dipped into this character and I just wanted to sit back and watch her. I just felt her, I just listened to her, and I just learned patience. I learned acting without saying anything – without any dialogue, she's working. Just being on set with all of them and watching how they take direction, how they make their own direction, how they speak up and say, "Hey, I'm not sure if Jacob would really say it like this." I was like, "Oh, wow, you can do that?!" Watching that, it took me to a whole other level as far as my skills and feeling confident on set and knowing what to do and how to do it. Watching that made me feel like I know exactly what I'm doing now when I walk on set. Being able to witness that and be around that has been a blessing, really.
That scene you had with Lynn where Lady Mae thought she'd emailed Tasha the St. Josephine Society applications and Tasha called her an "entitled white woman" was so funny.
*laughs* I know, I know, it's so funny! I loved every moment. It was like, "Oh my God, am I really about to go head to head with Lynn Whitfield right now?!" It was great. I have no complaints!
Your duet with Joshua Nelson was on the Greenleaf season 2 soundtrack, and some viewers may remember you from American Idol season 7. Between all the plotting and scheming, does Tasha get the chance to do any singing in season 3?
This season, she's not doing any singing, but she is directing the choir and she's still the head of music ministry. I think they kind of wanted to keep Deborah Joy Winans as the singer of the show, because you put me on the stage, I'm not getting off the stage! You put me in that lane, I'm taking over! I think they wanted to keep her character as the music aspect and make my character really really involved in my mission, which is getting revenge, and they didn't want the music to overshadow that.
It does sound like Tasha has a ton going on thematically this season.
Exactly. I mean, I'm a singer, so of course I would've loved to be able to sing again, but there's more to come!
That's a great segue into the next topic: In addition to Greenleaf, you're set to star in the two-part bio-series The Bobby Brown Story that premieres on BET on Sept. 4.
I'm actually doing some music in The Bobby Brown Story as well! Babyface is doing the score for the movie, and he called me in to do some background vocals. When you hear all those little background vocals, that's me! I play the role of Kim Ward, who is Bobby Brown's hometown sweetheart. She has two of his kids – his first child, Bobby Brown Jr., and LaPrincia. They met when they were like 16 years old, so I play a teenager. I play 17 and I play pregnant, which was really fun! It was crazy because it looked so real that everyone on set was like, "Oh, congratulations! So beautiful!" and I'm thinking, "What are they talking about?" Everyone was like, "You're really pregnant, right?" and I was like, "What? No!" I started to trick myself into thinking I was!
What's really interesting is that opposite of Tasha, this girl is completely stripped down. Kim wasn't Whitney Houston – she wasn't a beautiful girl. She's like a hood girl from Boston. When I sat down in the chair and the makeup artist started doing my makeup, she literally tapped on my face two times and was like "OK, you're done." I was like "Mascara? Concealer? Anything?" The director was like, "Yeah, no makeup. You're 17, you're from the hood. Y'all didn't even do that back then." Totally opposite to sitting in the makeup chair with Tasha! And I was playing a woman who really doesn't have an identity. Nobody knows who Kim is. Nobody really cared because she was completely overshadowed by Whitney, this huge superstar who was gorgeous, and Bobby left Kim for Whitney. Unless you were in the camp – unless you were part of Bobby's family or his business – you didn't know who Kim was. The public didn't know.
And Kim is definitely not liked. At least Tasha has that little bit of, "Oh, man, I don't wanna like her but I kinda can't not like her fully." You just don't like Kim at all. At all. So I'm playing a teenager who's pregnant, playing completely raw and stripped down, no makeup, no nothing, just full-attitude Boston chick who's really pissed off most of the time. She has these kids by Bobby and he left her, and now he gets to go on and live his life and be a huge superstar with Whitney, and nobody even knows who Kim is. And Bobby went back and forth with Kim and Whitney a lot, because he and Kim grew up together, so he felt this sense of comfort when it came to Kim. Kim knew him like nobody else, and that definitely drove a rift between him and Whitney, so people did not like Kim. Even on the set, we were all so deep into our characters that it was like I didn't have any friends on set because nobody wanted to like Kim! It was that deep. I was like, "Dang, people really did not like this woman," and I felt that for sure. When the wrap party came, it was like everyone could finally like me! It was pretty intense. I'm excited about giving this woman an identity and being able to tell a little part of her story and who she is to Bobby. And she doesn't play no games! Kim's gonna give it to you.
The first two seasons of Greenleaf are on Netflix, which means they're easy to binge-watch! What are your favorite things to binge-watch and why?
Power, for one. I love Power, I love Stranger Things. Did you ever see The Get Down? The first season was amazing; the second one got a little weird, but the first season? Oh my gosh, I watched that like four times. Loved it. I love to binge-watch The Office. My guilty pleasure that I watch when I'm not around anyone else is reality TV. I love to binge-watch reality TV because it makes my life feel normal and not crazy! I just love all the crazy, outlandish ridiculousness. I'm like, "Ooh, did you hear what she said?!" I love the excitement of that drama. Half of it, I can tell it's completely made up and scripted, which I think it's hilarious. I also love Snowfall, Dave Chappelle's comedy specials on Netflix, and I love documentaries, too. I'm like three days in the house watching documentaries, and then I come out and I'm all weird. You feel like you're on another level, like you're enlightened! I'm like, "I know something you don't know!"
---
Thanks so much to Asia'h Epperson for chatting with Pop City Life!
You can keep up with Asia'h on Twitter, Instagram, and Soundcloud.
Don't forget to tune in to the two-night Greenleaf season 3 premiere on Tuesday, Aug. 28, and Wednesday, Aug. 29, at 10/9c on OWN.
Connect with Pop City Life on Twitter, Instagram, and Facebook.