Nickelodeon's Amber Frank stars alongside Dylan Sprayberry and Mason Dye in Vanished | Left Behind: Next Generation, an apocalyptic adventure movie based on the best-selling Left Behind book series. Amber gave us the 411 on her character Gabby, her experience making the movie, and more. Read on for our interview with Amber Frank.
What inspired you to get into acting? Was there anyone who influenced you?
Amber Frank: I just always loved entertaining people. I was always the kid in class who talked to everyone, making jokes and telling stories. I remember watching E.T. and thinking how cool it is and how amazing it would be to be part of something like that. My mom had a friend who was a manager in L.A. and she was the one who suggested I get into the business.
What do you enjoy most about your job? Is there anything you'd love to tackle that you haven't yet? Anyone you would love to work with someday, if you could pick anyone?
What I love most is being able to channel different feelings from different points of view. Being able to figure out how other people think and what makes them act a certain way is really fascinating to me. I also love being able to make people feel different emotions through the art of acting. There's lots of different people I'd love to work with. I'd love to work with top actors like Johnny Depp because he's so talented and eccentric; it would be a total challenge for me. I also really want to work with Steven Spielberg one day because his films were a big inspiration to me when I first started acting.
Can you talk a little about your character in Vanished and what attracted you to the role? Is there anything you have in common with your character?
I definitely have a lot in common with Gabby, which is what I was really attracted to. Coming from Haunted Hathaways, the characters are so over the top, [so] it was awesome to be able to become someone really relatable and truthful. Gabby is just a young girl who's been forced to grow up quickly and be responsible for a lot of things.
How do you think you would cope if you had to face the situation your character faces in the movie? People suddenly disappearing is scary! Without giving too much away, what were your favorite scenes or types of scenes to film?
It definitely wouldn't be easy haha. I think I'd try to find whoever I trusted most and figure out a safe plan and where to go from there. My favorite scenes to film were the ones with a lot of emotional dialogue. I also loved filming the rapture scene, which we shot in just one day.
The film is an adaptation of a book series – had you read the series beforehand? Did it help you prepare for the role?
I hadn't. The movie is a totally different story line and I already knew the concept, so I wanted to just create a new world. I have read a couple now and I think they're amazing.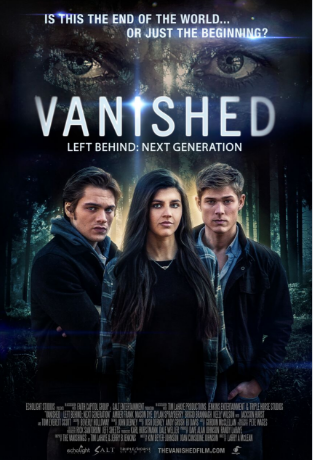 Nickelodeon's Haunted Hathaways was a bit spooky, but not as intense as Vanished. How does your role in Vanished compare to your previous roles?
Haunted Hathaways was completely different from Vanished. I can't really compare it very much. I think I learned a lot on that show, work ethic-wise, [and] it helped in that aspect. I did a couple small dramas before Haunted Hathaways, though, so that helped with me being able to transition back into the dramatic realm.
You have a great social media following. Do you enjoy interacting with your fans?
I love it! I think it's amazing that people take the time to show me love and support. It warms my heart and I really can't explain how much I appreciate it. I wish I was able to physically meet everyone that I interact with on social media.
What else are you working on? What can your fans look forward to from you next?
I'm working on a confidential animated project right now that will be out next year, so I'm really excited about that. I have a few other films in the works too that will be out within the next few months. I'm constantly auditioning for new projects so there will definitely be a lot to look forward to in the future.
---
Vanished | Left Behind: Next Generation comes to theaters Wednesday, Sept. 28. Check the movie's website to find out where Vanished is playing near you, and don't forget to follow Amber Frank on Twitter and Instagram!