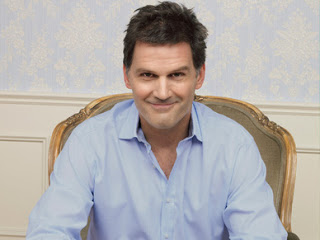 Many of you will recognize D.W. Moffett for his roles in Friday Night Lights, Happily Divorced, and of course, Switched at Birth. D.W. plays the role of John Kennish on the hit ABC Family original drama series. With talents that extend to both the stage and screen, D.W. Moffett is branching out to his first passion — directing. The accomplished actor will be taking on the role of director for this Monday's upcoming episode of Switched at Birth.
We had the pleasure to once again chat with him about season 3 of the show, what it was like directing his friends and cast mates, and what his hopes are for the show moving forward. And of course, we had to get some scoop along the way.
Read on for our interview with D.W. Moffett below:
Hi, it's nice to talk to you again. Congratulations on this upcoming episode.
Thank you. It's so exciting for me to finally get to direct our show and with the support of our loyal fanbase that keep us around and all of your guys' work. So I just wanted to thank you personally for all being here today as well.
What is it that you enjoy most about branching out to direct an episode?
My life in entertainment began in the theater community in Chicago and basically, I was a producer and director primarily in the early days of my theater company. I was only called in to act later on, certain members would get injured or couldn't do a certain part so one would argue that my first passion was directing. Added to that the fact that I sort of view my castmates as family, we are incredibly close, we are incredibly well behaved with each other and we are kind of that sickeningly nice cast that you read about where you say "Ahh, that can't be true." But in our case it actually is true. Just the honor to be able to work with people that you feel so close to and the trust that they gave me was amazing. Have you seen the episode yet?
I haven't. Not yet.
It's a very emotional episode and the cast was just spectacular and they gave me every honest emotion that I could ask for. It was a very demanding production schedule as we were nearing the end of our season when things get complicated towards the end. It was a dream deal. I hope the rest of my episodes go as well. This one I'm very proud of and I'm particularly proud of the cast for the work achieved.
The episode you'll be directing is a big one, especially for Daphne's character. Was it challenging at all directing that kind of an episode that's kind of emotional?
I knew that because of our closeness with each other, I would have a shorthand with the cast that would allow me to get emotional results quicker than maybe other directors could. And to maybe ask for nuances in those emotional portrayals that maybe other directors wouldn't even want to try. When someone is crying their guts out, it's kind of hard to go in and say "Hey, can you not cry your guts out so much on this line and maybe save it for two lines later?" A lot of directors are afraid to do that because actors may have a negative reaction to that. In fact, my actors understood what I was asking for and were able to deliver all those nuances. Some of which I used in the final cut and some of which I didn't.
Congrats on the show being nominated for Teen Choice Awards. As the show continues so much success, if you're picked up next year, what are your hopes as the show goes forward?
I think just a continuation of the authenticity that has been established. I know that sounds a little general. I think that there are a lot of shows that are on the air now across all the networks where the family dynamic is investigated in quite as specific and honest a way that our show is. I think The Fosters does it and other shows on ABC Family do. I like the fact that our show is about family because I have a family. I can relate a lot to what is going on. I love that I get to play an adult in a show that is about teenagers and I'm not two dimensional. My voice is a real component in the show and not just "Don't get home late! Don't drink and drive! Get good grades!" It's much deeper than that. And I really appreciate that. My fondest hope is that that kind of depth continues.
D.W. also revealed how John will react once he finds out that Regina is working with Chip Coto again and his favorite part of the upcoming episode.
Oh, boy. That is something that I think they may actually be saving. You get a taste of it in my episode but I think the full range of that has not yet been explored. You'll see in my episode the look on my face when his name comes up. It's pretty priceless. I had a couple good looks to choose from but they're all pretty good. I think if we were on HBO, the language would have been a lot saltier. You get the picture. *laughs*

I think my favorite part of this episode was the prom scenes. There was a lot of great stuff in this, but I'm going to bifurcate this and call it two, two favorite parts. One was the prom scenes and the various interactions between Bay and Emmett. And number two – the very emotional scene at the end of the episode involving Kathryn, Regina, and Daphne. Those are my two favorite elements that I got to direct and I think the results are wonderful.

This shadow that is over Daphne gets reconciled over the course of next week's episode and the finale. This shadow is lifted, but then reimposes itself. There's a twist at the end of the finale that literally no one in the cast saw coming, and I think is going to surprise our viewers and delight them, because it sort of opens up a whole new vista for the show's future. There is understanding and there is forgiveness, but then something happens which causes a lot of concern.
Be sure to check out D.W. Moffett directing an episode of Switched at Birth this Monday, August 11th on ABC Family. Watch the sneak peeks from the episode.
You can keep up to date with D.W. by following him on twitter @DWMoffett.
Check out our previous interviews with D.W. Moffett here. Keep checking back as we add the rest of the Switched at Birth scoop from the interview before Monday.