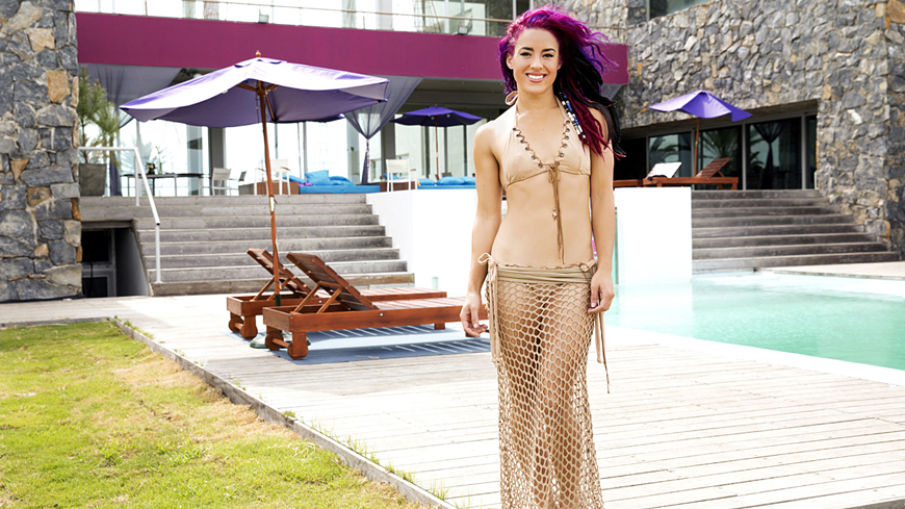 They should have nicknamed Cara Maria Sorbello the "Comeback Kid" on this season of MTV's The Challenge. The hit reality competition series recently completed its 25th season featuring a new format — "Free Agents". This season was an especially intense watch because Cara Maria was a consistent competitor and an even stronger fighter. Again and again, Cara came back from a handful of elimination rounds and proved that the dreaded Kill Card couldn't keep her down. She proved herself to be a strong and fierce competitor and earned the respect of everyone watching along the way.
We had the chance to chat with Cara Maria about her time on The Challenge: Free Agents, her favorite moments this season, and what fans can expect from her next.
Read on for our exclusive interview with Cara Maria Sorbello below:
There's no denying that this season you proved yourself as a strong competitor. How did it feel to consistently prove you were a force to be reckoned with each time you came back from an elimination round? (And just what did that Kill Card have against you??)
Cara Maria: At the time, it sucked! No one wants to go into elimination. It could be a finger painting contest and there's still a chance you are going home. I became a little green eyed monster to those who happened to have luck on their side. However, looking back at it and seeing the way things worked out and fell into place…. I'm THANKFUL for the kill card.
What I have gone through, what I have learned about myself, and what I have shown others could not have been done without going down the hard road. It still would have been amazing to be in that final.. especially since there was no heavy lifting, nasty eating, or all star challengers Paula/Emily/Ev to deal with…. but everything happens for a reason. You can only make mistakes, learn, grow, and come back stronger.
Were you excited when you found out that Free Agents meant you would ultimately be able to rely on yourself instead of others?
YES YES YES. Best format ever. It neutralized alliances. You never knew who was going to be your partner. You couldn't get "cliquey". It created a really relaxed and fun atmosphere in the house. Free Agents also had the best challenges of any season I've done. They were just super fun. Also, not knowing what the next day would bring just kept everyone excited and engaged.
As a viewer, I was really rooting for you to make it to the final. You were still eager to compete despite your injury. Can you talk a little about what was inspiring you to stay in the game?
Thanks 🙂 When I got injured… I knew something was wrong. It wasn't something that I could hide or "suck it up" so that no one would know. Believe me, if I could have I WOULD have. I even tried hiding the cast! In the medical van i was absolutely broken down physically and mentally. I didn't care about what bones were broken or not… my tears were only because I thought that I was going to be sent home for my injury.
I had worked SO hard to get to that point. I was a stones throw from the epic finale … and it could just be gone. Poof. Just like that. I wanted to stay in the game because I worked my ass off before the season and during the season and I felt like I was Laurel's only real competition in the final. I wanted to fight against her. I wanted to fight against the best. If I came in second… so be it… but honestly for the first time in my challenge history, all i could see was first. I felt like it was my time.

That was the worst elimination round for a broken hand! Now that we've seen it…had you been able to advance, how do you think you would have fared in the final challenge with that volcano?
Honestly, there's no telling. My hand was seriously swollen and in agony. My shoulder was still messed up from my fight against Nia. I was pretty beaten up. It definitely would have been tough. But I would never have quit.
The relationship between you and Laurel had its ups and downs this season. Have you guys been able to rekindle a friendship?
Time will tell!
Was there anything you were nervous about going into this Challenge or a type of Challenge you were dreading having to do? What are your strengths and weaknesses going in?
Weakness: Swimming… we know I don't like to get wet. However, I had taken more serious swim lessons to try to get me more comfortable and I actually practiced laps a few times in the pool while at the challenge house. A couple rookies even asked if I was "a swimmer". I laughed. But I'm making progress.
Strength: Anything involving strength, especially upper body. I can climb a rope and hold on as long as you need me to. Thanks Crossfit!

What's your favorite way to pass the time in the house? Do you have a favorite Challenge moment from the past?
Eat. Sleep. Work out. And everything else we do when we get real stir crazy usually ends up on "SH#T They Should Have Shown".
Is there anything that fans didn't get to see that you wish MTV had included?
Hell yes. I'm shocked they didn't do a "SH#T They Should Have Shown" episode for this season. This season has some of the most hilarious moments that were not shown out of any challenge I've ever done. The epic pillow fight/ Wedgie Wars between CT, Aneesa, Jessica, and myself was out of control. The "La Toya and Brandon Show… and Sometimes Isaac" was the best entertainment I'd had in a long time! In fact, anything involving Isaac is pretty hysterical.
We had a 2 hour long slow motion yoga session in which we slowly rotated in various matrix twister moves. Isaac was wearing a red blinking head thingy and making weird "ommmm" noises. At one point I think Aneesa's foot ended up in his mouth. You kind of had to be there. And there was also an insane tribal dance by the entire house while waiting for food to come. It was a complete musical…. with drums… dancers… and smoking empty buffet tray.
The big question: Will you be back for another Challenge? What else can fans look forward to from you?
You'll have to ask MTV. It's their call, not mine. I'm always down. People can expect to see a more confident Cara who can hopefully swim better and who totally knows that the United States is located in North America. In the meantime, I'm just studying for my AFAA certification in personal training and group fit and also making perfumes and pretty beaded jewelry for my Etsy store. www.etsy.com/shop/misscaramaria
Finally, I just have to say that your hair always looks so amazing. What kind of dye do you use to get it so vibrant?
Why thank you! I go to Shag Salon in Boston with Nicole Derba as my stylist. She uses Pravana Chromasilk Vivids in red and violet. She mixes them up differently each time so there's more depth and dimension. The color stays forever I swear. Any ideas on what I should do next? Perhaps a green or blue? I have no tattoos…. so the hair color lets me have fun without the permanent commitment. One day I'll go back to black…. you never know when that will be!
We'd like to thank Cara Maria Sorbello for taking the time to answer some questions for us. We really appreciate it! I can't wait to try out her hair tips.
Be sure to keep up to date with Cara Maria by following her on Twitter @CaraMariaMTV and check out her shop on Etsy here.
You can also check out our recent interviews in our INTERVIEW tab as well as our Challenge coverage.