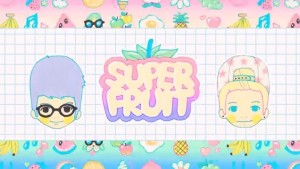 I'm just going to start this off with a big fat "YOU'RE WELCOME" because this video pretty much made my day and I'm sure it will make yours even better as well. Mitch Grassi and Scot Hoying of Pentatonix team up for another fantastic episode of "Superfruit".
The 90s are so in right now. Growing up in that decade was the best. Technology was booming, television was at its prime, and the snacks were all that. Who doesn't remember munching out on 3D Doritos and Dunkaroos? Well, these guys are right there with us.
In their latest webisode, they relive the nostalgia of the 90s by counting down their favorite things.
If this video did one thing besides make me want to play with Tamagotchis and Beanie Babies, it's that it reminded me that these two are awesome. But I already knew that. I love watching them ponder the cast change of Zenon the Zequel and the scary temple guards in Legends of the Hidden Temple. I enjoy knowing that there is someone else out there that shares my weird obsession with Jurassic Park and Toy Story.
I'm so happy they brought the Stinky Cheese Man back into my life and reminded me that if you look in the right place, you can still buy some Dunkaroos and work it off with a Skip-It. However, I'm not sure I want to be around anyone that doesn't remember Alex Mack and Super Soakers.
"Wishbone was a little too historical for me. I was just trying to watch cartoons I wasn't trying to learn."
Can we just.