by Ashley Weitzel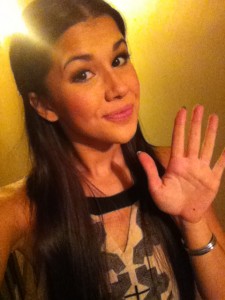 Shanley McIntee is a typical 24 year old girl from South Bend, Indiana. She considers herself a cat lady and a hipster wannabe. She is now known for being on MTV's hit show Are You The One.  Be sure to tune into MTV on Tuesdays at 11:00/10:00c to see her in action!
Continue reading for our full interview with her!
1.Could you introduce yourself?
My name is Shanley McIntee. You can call me Shanda, Shan, Panda…whatever the fuck you want really.
2.What made you audition for the show?
I guess you could say the opportunity sort of fell into my lap at the perfect time ; not only was I just getting over a huge heartbreak but I had just graduated college too, so what better to do than try out for an MTV dating show!
3.What was your first reaction stepping into the house with everyone?
How about my first thought: WHERE IS THE BOOZE? What had I gotten myself into? Let's ignore the fact that I was about to live with 10 gorgeous guys because I'm used to living with guys. I lived in a fraternity for my last two years of college. But 9 other girls? I wasn't to excited about that part.
4.Would you pretend to have feelings for someone just for the money?
I would never pretend to have feelings for someone just to win the money. I think that's selfish. Besides, I don't think that is what Are You The One? is all about. I think the game is more of a learning experience; figure out what need in your life rather than going for something your used to. Falling in love with your "perfect match" is just an added bonus.
5.What was your best experience being on the show?
I think being able to rub it in my parent's faces about having a free trip to Hawaii was the best experience about being on the show. Jokes..but really. Being taught how to surf (2nd episode) by two well-known professionals in Hawaii was definitely the best experience.
6.How were the living conditions down there?
The house was enormous. We had a pool, hot tub, a huge backyard with a breath taking view and a fully stocked kitchen. I didn't have anything to complain about….except the hand sized wolf spiders that would randomly show up in our outdoor showers!
7.How has your life changed since doing the show?
I'm a role model to people! I have never thought that by just being myself, I could make a difference in people's lives. I have people emailing/messaging/tweeting me everyday THANKING me for being me and telling me they want to be like me. It's crazy.
8.Would you ever do one of The Challenge shows?
I would LOVE to do one of the challenges. I'm such a competitive person and love to talk shit. Bring it on.
9.What was the best and worst part about being in the house?
The best part was being able to hang out with a lot of people that I loved every day. There was never a dull moment with those people. The worst part? Living with a few people that I despised.
10.Who were you closest to friend wise?
Amber, Ashleigh, Jacy, and Jessica were the 4 girls that I was closest to in the house and I was pretty close to all of the guys. Dre, Chris T., Ethan, and Scali were my really close friends in the house.
11.Did you have any big issues with anyone in the house?
I did have big issues with different people at different times. Jacy and I got into a huge fight on the first night but we made up very quickly. You'll have to wait to watch the rest of the season to see who else I had issues with.
12.Why did you choose Indiana University and what did you major in?
I actually started college down at Augusta State in Georgia because I had a scholarship to play volleyball there. Unfortunately that was short lived and I had to come back to Indiana and the only way that I would attend college in Indiana was if I were to go to IU. I graduated with a GenEd studies degree, focused in journalism. I wanted to finish with a Broadcast Journalism degree but they wanted me to stay in school for another year (and I was already a 5th year before I transferred).
13.We see you and Chris T. finding out you weren't a match. How hard was that for you?
Initially finding out that we weren't a match wasn't that hard for me. I was actually hoping that we weren't because I didn't know if I could spend the rest of my time with him in the "honeymoon" suite. My feelings for him continued to grow throughout the rest of filming, so it was pretty sad that we weren't a match in the end.
14.Would you do another season of AYTO?
I would not do another season of AYTO. Once is enough for me!
15.Do you like sports? If so what is your favorite?
I'm an athlete and I'm extremely competitive, so of course I love sports. I played volleyball for 13 years of my life and I was pretty damn good. Volleyball is my favorite to play but…surprisingly, gold is my favorite to watch. I'm weird.
16.What have you been doing since the show?
I have been trying to figure out what I want to do with my life, job wise….and I have been sleeping a lot.
17.What should we expect in future episodes?
DRAMA, DRAMA, DRAMA! I cannot wait for you guys to see how things pan out for myself and for the rest of the cast.
18.What would you like to say to your fans/supporters?
Thank you all for the love and for the hate, and for making the rest of my AYTO experience worthwhile! Remember: ALWAYS be yourself. You'll never leave an impression on the world by trying to be someone else.