by Josh Batchelder
Another year gone, another year to come, eh? 2014 looks to be a very exciting and enthralling new frontier for film. Join me as we delve into my list for the most anticipated films of 2014.
50. WOLF CREEK 2

Release Date: TBA 2014
Starring: John Jarratt, Ryan Corr, Shannon Ashlyn, Phillipe Klaus
Director: Greg Mclean /Writers: Greg Mclean & Aaron Sterns
Trailer: http://www.youtube.com/watch?v=s4bqeT5edbs
Genre: Horror, Thriller
Plot Crunch: The outback once more becomes a place of horror as another unwitting tourist becomes the prey for crazed, serial-killing pig-shooter Mick Taylor.
*I've been waiting 9 years for this horror sequel, but the trailer feels right at home and perfectly suits the tone of the first movie. I'm hoping for something a bit better than just a cheap cash-in. John Jarratt is back for more, so I can only hope with him comes some quality entertainment.
49. THE INTERVIEW

Release Date: October 10, 2014
Starring: James Franco, Seth Rogen, Lizzy Caplan, Randall Park
Directors & Writers: Evan Goldberg & Seth Rogen
Trailer: –
Genre: Comedy
Plot Crunch: An attractive talk show host and his producer unwittingly get caught up in an international assassination plot.
*It's Seth Rogen. It's Evan Goldberg. James Franco is starring. 'Nuff said.
48. THE BOOK OF LIFE

Release Date: October 17, 2014
Starring: Channing Tatum, Zoe Saldana, Ron Perlman, Danny Trejo, Christina Applegate, Ice Cube, Diego Luna, Cheech Marin, Gabriel Iglesias
Director & Writer: Jorge R. Gutierrez
Trailer: –
Genre: Animation
Plot Crunch: An animated movie described as a Romeo and Juliet-inspired love story set during a Day of the Dead celebration.
*An animated movie set during Day of the Dead sounds zany and off-the-wall and totally reminds me of a kooky level from Little Big Planet. With Gulliermo del Toro and Channing Tatum, my interest is officially off the charts, especially considering the hole left in my heart for animated flicks now that there's no Disney/Pixar film for all of 2014.
47. THE KITCHEN SINK

Release Date: TBA 2014
Starring: Vanessa Hudgens, Bob Odenkirk, Ed Westwick, Joan Cusack, Denis Leary, Patton Oswalt, Nicholas Braun
Director: Robbie Pickering /Writer: Oren Uziel
Trailer: –
Genre: Comedy, Horror
Plot Crunch: Vampires, humans and zombies used to get along in Dillford, but then something unexpected arrived and now it's humans vs. vampires vs. zombies in all-out mortal combat. It's up to three teenagers to try to get things back to "normal."
*How can you read that plotline and not be the slightest bit intrigued? Sure, it could easily be a hot mess. It's hard to get comedy and horror together and perfectly in sync; few movies have done so successfully. The ones that have been great, however, prove that making a picture within the genre that blends horror and comedy so well isn't impossible: it's just hard. Plus, Ed Westwick, Joan Cusack, and Vanessa Hudgens? That alone is a recipe for intrigue.
46. CAREFUL WHAT YOU WISH FOR

Release Date: TBA 2014
Starring: Nick Jonas, Dermot Mulroney, Isabel Lucas
Director: Elizabeth Allen /Writers: Chris Frisina & Gregg Hurwitz
Trailer: http://www.youtube.com/watch?v=_ETZKkKbeRk
Genre: Thriller
Plot Crunch: A guy gets more than he bargained for after entering into an affair with the wife of an investment banker. Soon, a suspicious death and substantial life insurance policy embroil him in a scandal.
*It's Nick Jonas, in his feature film acting debut. Not Camp Rock, like REAL film. The plot, director, and everything else is totally irrelevant because… Nick Jonas. Although speaking of the director, I totally dug Aquamarine back in the day.
45. THAT AWKWARD MOMENT

Release Date: January 31, 2014
Starring: Zac Efron, Michael B. Jordan, Miles Teller, Imogen Poots
Director & Writer: Tom Gormican
Trailer: http://www.youtube.com/watch?v=N_B6QSnR_x4
Genre: Comedy, Romance
Plot Crunch: Three best friends find themselves where we've all been – at that confusing moment in every dating relationship when you have to decide "So…where is this going?"
*Zac Efron's first raunchy R-comedy… I'm in! If the red band trailer is any indication, this should be fun with some heart. I'm thinking in the vein of 21 & Over, a totally underrated comedy from last year that I loved.
44. NIGHT AT THE MUSEUM 3

Release Date: December 25, 2014
Starring: Ben Stiller, Robin Williams, Dan Stevens
Director: Shawn Levy / Writers: Robert Ben Garant & Thomas Lennon
Trailer: –
Genre: Adventure, Comedy, Family
Plot Crunch: –
*While Night at the Museum 2 wasn't fully what it could have been, it was still a worthy sequel to the first installment. Hopefully director Shawn Levy can close out his Night trilogy rather strongly, although at this point it remains unclear what exactly the movie will even be about. I'm still holding out hope for all three Jonas Brothers to return as the cherubs, just because.
43. THE LEGO MOVIE

Release Date: February 7, 2014
Starring: Chris Pratt, Elizabeth Banks, Will Arnett
Directors & Writers: Phil Lord & Chris Miller
Trailer: http://www.youtube.com/watch?v=fZ_JOBCLF-I
Genre: Animation, Action, Comedy
Plot Crunch: An ordinary LEGO minifigure, mistakenly thought to be the extraordinary MasterBuilder, is recruited to join a quest to stop an evil LEGO tyrant from gluing the universe together.
*It's a LEGO movie. The trailer is fantastic and the lead is voiced by Chris Pratt. What more could you want?
42. FURY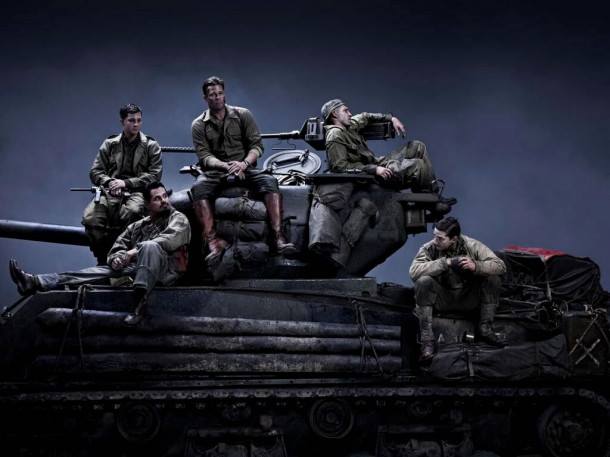 Release Date: November 14, 2014
Starring: Brad Pitt, Logan Lerman, Shia LaBeouf, Jon Bernthal, Scott Eastwood, Jason Isaacs, Michael Pena, Jim Parrack
Director & Writer: David Ayer
Trailer: –
Genre: Action, Drama, War
Plot Crunch: A crew of Americans in Nazi Germany toward the end of World War II embark on a brave mission.
*The stellar cast and great director really solidify this as one to look out for. The thought of Logan and Shia being in the same film gives me goosebumps.
41. LEPRECHAUN ORIGINS

Release Date: TBA 2014
Starring: Stephanie Bennett, Andrew Dunbar, Dylan Posti
Director: Zach Lipovsky /Writers: Matt Venne & Harris Wilkinson
Trailer: –
Genre: Horror
Plot Crunch: This is a standalone film with a far darker tone and more serious approach. No shoe obsessions will be found here.
*The Leprechaun horror franchise is one of my all-time favorites, mostly thanks to the delightful performances from Warwick Davis. With Davis gone, though, I'm not sure what to expect from this new Leprechaun flick. It's done by WWE pictures, who made the stellar See No Evil, so it at least has a few things going for it. It remains to be seen whether or not this will get a theatrical release, but I wouldn't bet on it considering the Leprechaun franchise hasn't gone to theaters in basically two decades.