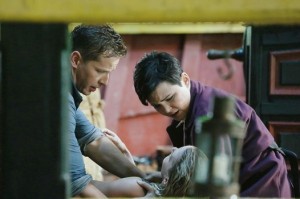 Season 3 of Once Upon A Time is finally upon us. We pick up right where season 2 left off and we're diving headfirst through a portal. Bring on Neverland.
Here is our recap of Once Upon A Time: "The Heart of the Truest Believer."
The episode begins 11 years earlier, as Emma gives birth to Henry and can't even look at him. Oh, how times have changed. Her love for Henry is what fuels her in this episode. As I watch this scene, I am struck with the notion that Jennifer Morrison may have taken some acting lessons. As the episode progresses, I am sadly mistaken. Aboard Hook's ship and on the way to Neverland, the gang are all pretty moody. The weather sucks and Henry is missing. Emma blames Snow for all her troubles because of her disgustingly cheerful attitude. A leap of faith, in more ways than one, will come to play later in the episode.
Tamara and Greg arrive in Neverland with Henry by their side. Happy with their success, they attempt to contact the "Home Office" only to discover their walkie-talkies aren't going to work. Out of the bushes come The Lost Boys, or, in this case, the "Home Office." Tamara and Greg were just pawns and they are not long for this world. One of them sends an arrow through Tamara and the other rips Greg's shadow off his back. Peace out you two.
It's Rumple, however, who finishes Tamara off. Good for him. After a wardrobe change and a bit of magic separating him from the others, he makes his way for the jungle. With Henry on the run with an "ex" Lost Boy, Rumple is looking for answers. He encounters that Head Lost Boy with the attitude and is driven to tears when he is presented with a straw doll that obviously means something to him. Can't wait for that story.
Back in the Enchanted Forest, Neal is recuperating with Mulan, Aurora, and Philip. They attempt to make Aurora useful for about 5 seconds but it doesn't last and she and Philip disappear halfway through the episode. Mulan accompanies Neal to his father's old castle where they encounter Robin Hood and a bit of magic Rumple left behind. Notable moments from the Enchanted Forest? Neal attempting to explain to Mulan that Disney made a movie about her.
Over in Neverland, the Jolly Roger is attacked by angry mermaids. After catching one, all hell breaks loose and it has turned into the Perfect Storm. Before you know it, Snow, Regina, Charming, and Hook are all involved in a fist fight that Unicorn stickers won't solve. Convinced their fighting is causing the storm, Emma dives in and ends up almost drowning herself to stop them. No sign of Ariel but we do get this great line from Regina: "Filet the bitch!"
Emma tells the others that things have to change. They need to work together to find Henry. They need to take a leap of faith. Henry is doing this quite literally. He grabs the pixie dust from his new friend and jumps off a cliff. Sadly, they fly through the air with the greatest of ease. No one is happier with Henry's ability to believe than his new friend, who reveals himself to be Pan. Pan wants Henry's heart because it's the truest of the true. Will his family save him in time?