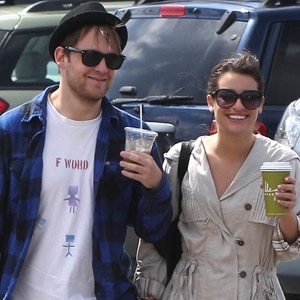 Well this came out of nowhere. Lea Michele and her boyfriend Theo Stockman have split. Weren't they always making out in public together? It's a shame because we thought they were a cute couple. Read more on what's behind the split:
The Glee star, 25, and her actor boyfriend of more than a year, Theo Stockman, have called it quits, a source tells me.
A rep for Michele confirmed the split. "This is not a dramatic breakup, the relationship just ran its course," the rep said in a statement. "They are still friends and will always be friends."
The very low-profile couple first went public when they attended the Time 100 Most Influential People gala in New York City together in May 2010. Stockman, 26, starred in American Idiot on Broadway and has appeared on television shows like 30 Rock and Nurse Jackie.
The two were last spotted vacationing together in Hawaii in July.