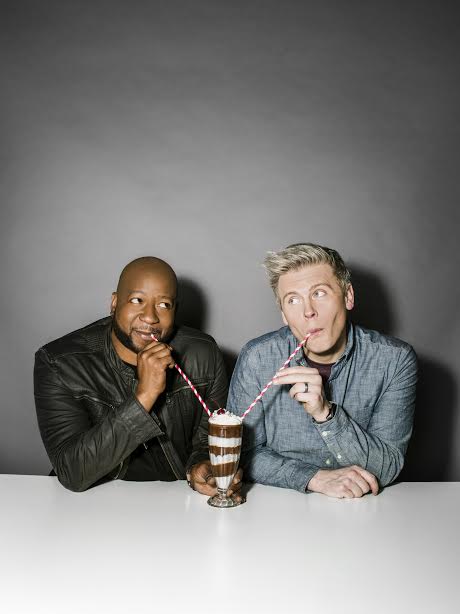 Christian Finnegan stars alongside Sherrod Small in the new provocative A&E original comedy series Black and White. Using their comedy to tackle both race and politics, these long-time friends and comedians join a live studio audience and other celebrity guests and commentators to start an honest conversation that is both funny and eye-opening.
We had the chance to chat with host Christian Finnegan about teaming up with Sherrod Small, why they work so well together, and what viewers can expect from the first season.
Read on for our exclusive interview with Christian Finnegan below:
I personally remember watching you two a lot over the past decade on VH1. What inspired you guys to get back together and craft this series? How did this dynamic duo come to be and what makes it work?
Christian Finnegan: In addition to Best Week Ever, we've been cast together on at least five or six different panel shows together over the years. I think it's because we have different completely perspectives, but we can still laugh at each other. It's like peanut butter and jelly–it's a weird combo, but it works.
At a time of high racial tension in the country, where do you think Black and White fits into that landscape? You've mentioned before that it opens the door for conversation. Can you talk a little about why it was important to you to have that conversation?
I always wince at the word "important" when used to describe comedy. We're not gunning for a Peabody Award. But we do have an opportunity to let a little "air into the room," I think. Race is a minefield, but the "Let's just not talk about it" approach doesn't seem to be working [so] let's try it this way, instead. People should try being more comfortable with discomfort.
Black and White incorporates several different formats and sketches throughout an episode but always ends including a Q&A with the audience. What do you enjoy most about talking with your audiences?
We're standup comics first and foremost, so having a live audience was a no-brainer. And given the subject matter, it's fun watching these debates play out right in front of us–watching them agree, disagree, nervously giggle, etc. The air is charged. You get that doing standup, but I've never truly felt that on a TV show. It's the best.
Does using your own brand of humor to get the ball rolling make it easier to open up topics for discussion?
Over the years, these are the conversations Sherrod and I have always gravitated to, so a lot of the show is an attempt to capture that specific vibe. We're not trying to be any of the (very funny) shows already on the air. We're doing it our own way because we don't know any other way to do it.

I read some recent comments in an interview you gave where you mention Derek Jeter's racial ambiguity and I laughed pretty solidly until I had a coughing fit. What do you enjoy most about playing off of each other in moments like that?
That's exactly the thing I'm talking about. Obviously Black and White is a professional TV show with all of the appropriate bells and whistles. And I love me some bells and whistles! But at its core, it's really just about the two of us screwing around.
What do you like best about working with each other? Do you each feel like the other brings something special to the mix?
If you combined Sherrod and me into one person, that dude would rule the world. He's good at the stuff I suck at, and vice versa.
You're joined by some celebrity guests this season. Can you talk a little about how they fit into the equation and what we can expect from that? Who were you most excited about joining you?
What's great about our show is that we're talking about something specific–it's not just "Tell us about your recent white water rafting trip." So you get people out of their comfort zone. There's a moment on next week's show where Daymond John (from Shark Tank) has a REAL reaction to a bit. Not a phony TV reaction, but a genuine "What is happening right now?" moment. I loved that. I think my favorite guest so far has been David Alan Grier, just because I've been a fan of that dude since Amazon Women on the Moon. So to have him do a couple of bits with us (and knock them out of the park, naturally), that was pretty cool.
Following the season premiere, how has the reaction from viewers been so far?
Surprisingly positive. Judging by the degree of vitriol that gets thrown around on social media, I was girding myself for a Twitter troll onslaught. And there's been a bit of that, sure. But most people seem to get what we're trying to do (and what we're not trying to do). Beyond that, it's all about getting eyeballs! Basically what I'm saying is, if you don't tune in, you're a huge racist.
---
Thank you so much to Christian Finnegan for taking the time to answer some questions for us!
Keep up to date with Christian by following him on Twitter (@ChristFinnegan) and tune in to Black and White Wednesdays at 10:30 p.m. ET/PT on A&E!