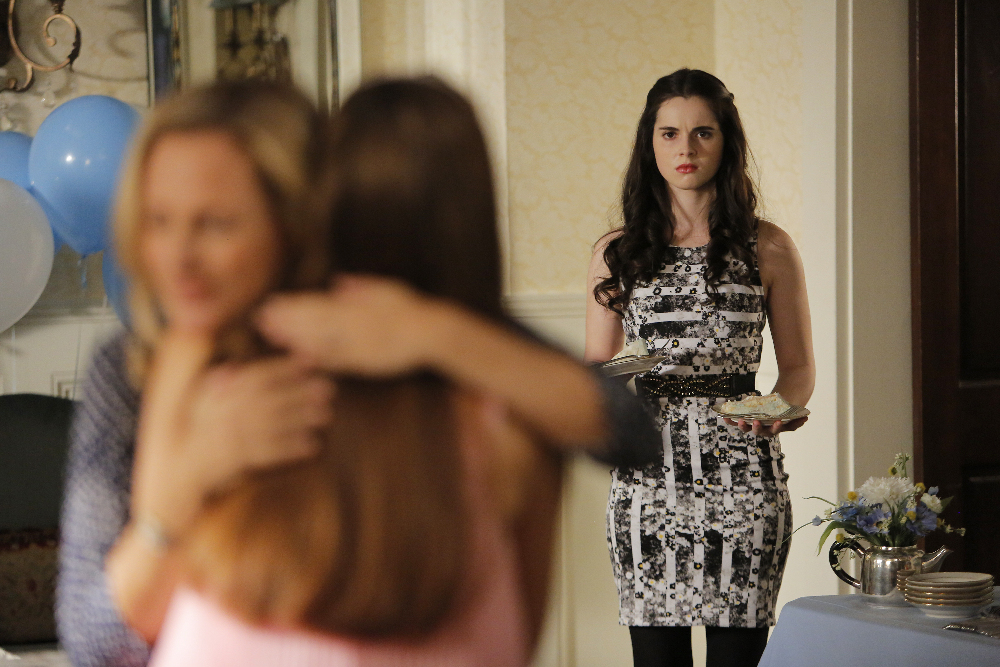 Switched at Birth 4×19 was filled with lies, prejudice, confrontations – oh, and a baby shower. Read on for five things we learned during Switched at Birth 4×19.
1. Daphne's professor doesn't think she can be a doctor.
Although Professor Marillo admits it did did take "chutzpah" for Daphne to take her chemistry class again after failing it the first time (who else thinks that word should be used more often on TV?), she's unconvinced Daphne has what it takes to make it in medicine. Specifically, she thinks Daphne's deafness is "a bigger obstacle to mastering science than anticipated," and she discourages Daphne from seeking a summer internship in the field of medicine. Unsurprisingly, Daphne refuses to be dissuaded.
You once told me not to give up so easily when someone knocks me down. That was really good advice. I am going to be a doctor. It might not be at the best medical school in the nation and it might take me longer than other people, but I will get there. I am going to do it.
In fact, Daphne's determination is enough for two people. Remember her nemesis-turned-friend, Sharee? She just so happens to be working for the company that's catering Lily's baby shower, and as she catches up with Daphne, she reveals that she dropped out of college. Daphne's confident Sharee would have a better experience at UMKC, and Sharee eventually concedes "Maybe" and agrees to think about it.
2. Kathryn's replacing Lily.
Or, more precisely, Kathryn will be stepping in to take the position Lily will be leaving open at UMKC – at least until Melody can find a permanent replacement. Great news, right? The only problem is that Lily no longer seems so sure she wants to leave…
3. Eric's past has finally caught up to him.
As we know from the cliffhanger at the end of last week's episode, Eric's ex-wife (and Will's mom) Hope is in town. After using Bay's new art project as a way into the Kennish-Vasquez world, she snatches Will and takes off. In a bid to get Will back, Regina agrees to meet Hope at a local park, where Hope asks for $100,000 to start a new life with her son. If Regina doesn't give her the money in 24 hours, Hope will call the cops on Eric, who technically kidnapped Will when he fled Georgia. Back at the Cracked Mug, Regina offers to contribute the last of the money Angelo left her, but they're still short, so Eric says he'll call in some favors. Meanwhile, Bay ends up telling the Kennishes about the whole mess.
4. Bay's feeling left out.
Between finding out about Lily and Toby's impending move by overhearing Lily's conversation with Melody, not knowing about Eric's secret, and being in the dark about Nacho's attempt to blackmail Regina and Daphne over the true identity of the construction site vandal, Bay's feeling left out – and she's mad about it. When it comes time to give mothering advice at the baby shower, Bay pointedly stresses the importance of honesty. Later, when Regina tries to talk to her alone, she explodes.
Lying's been your M.O. since you found out about the switch. Look, I get it – you've known Daphne a lot longer and you two have this special bond, but I'm your daughter too, so why is it that you tell her everything and you tell me nothing? You chose her, like always. Right now, it feels like the last four years never happened.
5. People really don't know much about Down Syndrome.
Unfortunately, this trend isn't limited to the Switched at Birth universe, but one of the baby shower scenes illustrates some of the attitudes and misconceptions people have about kids with Down Syndrome. One guest apologizes for buying the baby a train set, assuming a child with Down Syndrome wouldn't be able to enjoy the gift. Another mentions how affectionate all kids with Down Syndrome are. Then Professor Marillo (who's in attendance because she knows Lily from UMKC) chips in with a scientific perspective, talking about "DS individuals" and "chromosome therapy" and "defective genes."
Prof. Marillo: I wouldn't be surprised if, 50 years from now, they fix Down Syndrome altogether. Eradicated it.
Kathryn: Who said they need to be fixed?
Prof. Marillo: Oh, well, that was a bad word choice.
Kathryn: Who said the gene is defective?
Prof. Marillo: Again, bad choice of words. I should have said "abnormal," or "not the norm."
Kathryn: What's wrong with being abnormal? Maybe it's good that they see the world differently.
The Switched at Birth season 4 finale episode airs on Monday at 8/7c on ABC Family.