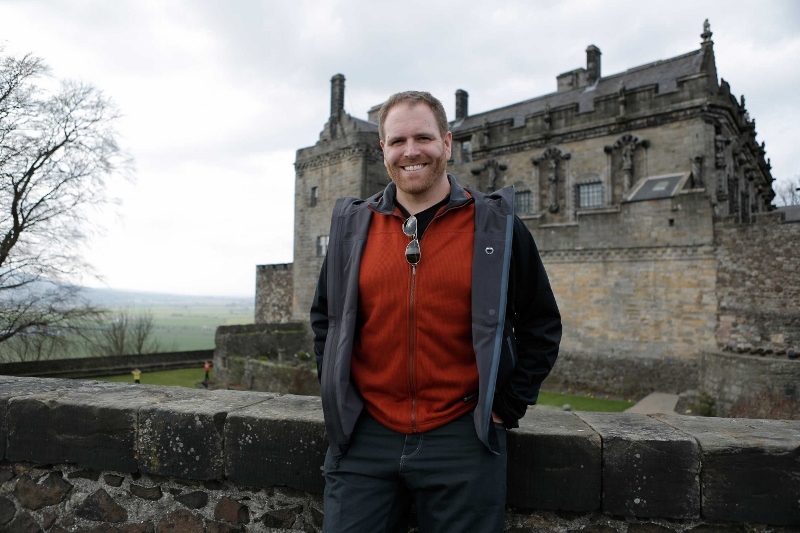 We spoke with explorer and Destination Truth star Josh Gates about season 2 of his new series Expedition Unknown. The new Travel Channel show premieres it's second season this week and is set to challenge what viewers think they know about some of the world's most iconic legends and mysteries.
Read on for our exclusive interview with Josh Gates below:
You are returning for season 2 of Expedition Unknown — can you talk a little about what we can expect from this new season?
This season is even more adventurous. We're traveling to more remote locations, from the Himalayan Mountains in Nepal to Africa's Kalahari desert. This season is also filled with even more iconic legends. We'll be tackling characters like Robin Hood and Genghis Khan.
Is there a specific legend or location that you visited this time around that really sticks out for you as memorable or meaningful?
We're doing a two-part special on Christopher Columbus that's really terrific. This is the most famous explorer in history, and yet his entire life is shrouded in mystery. His flagship, the Santa Maria, was wrecked during his first voyage, and there are now reports that it may have been found. We'll be investigating this as well as searching for the true location of Columbus' bones. The expedition takes us to Haiti, the Dominican Republic, Portugal, and Spain. It's a huge adventure with incredible revelations.
What does it mean for you to be able to explore and take part in these unique adventure opportunities?
It's honestly the opportunity of a lifetime. As someone who is passionate about travel and exploration, "Expedition Unknown" is a way to dive into our most thrilling legends and share those adventures with viewers around the world. I pinch myself every day – sometimes because a mosquito is biting me, but mostly to check and make sure this is my real life.
How has your experience and background come in handy?
I have a degree in archaeology and I'm a longtime adventure traveler, but to be honest, I think my best qualification for "Expedition Unknown" is that I'm genuinely curious. The show is all about investigating our greatest legends, and to do that, you have to be willing to go to some pretty wild places. I guess I'm a guy who's passionate (or maybe crazy) enough to look.
Do you ever find yourself thinking "Maybe this time, I'm in over my head" or maybe a particular adventure or past location that ended up sticking with you for all the wrong reasons?
I have that thought about three times a day. The show is a real, roughshod adventure. It's not scripted, and it can be totally unpredictable. I wake up thinking it's going to be an easy day, and the next thing I know I'm being lowered on a rope into a pitch-black cave. That's how it goes.
Is it safe to say that in this new season, the revelations will challenge what the viewers thought they knew about these classic legends?
They certainly challenged mine. We're doing an expedition in search of the truth behind Robin Hood. I was stunned to find out he might be based on a real man, and that he might be less of a hero than we've imagined. There are a number of big, iconic characters that we'll be investigating this season – and the real history behind the stories will really surprise you.
What legends or mysteries that you haven't had the chance to investigate on Destination Truth or Expedition Unknown would you love to explore one day?
So many! There are a number of lost cities that I'd love to go searching for in the jungles of South America. Explorers recently claimed to find the legendary Ciudad Blanca, or White City, but the find needs to be confirmed. I'm also intrigued by the fate of the Roanoke colony which vanished in the late 16th century in North Carolina. I'd also love to continue the quest for Amelia Earhart. We investigated this story in season 1, but there's many more places to search.
Can you talk a little about who you'll be sharing these adventures with this season and what it was like working with them?
I've got the hardest working crew in show business. I mean it. These guys are amazing. Viewers will recognize Evan, my cameraman from "Destination Truth" in several episodes. The rest of the core team has been with the show since our first season. They're up at the crack of dawn every day figuring out how to film these crazy adventures, and they always manage to keep a positive attitude, no matter how hot, muddy, or snake-infested their office gets. Honestly, they're like family – and the show wouldn't be possible without them.
The season premiere is set to focus on the legend of King Arthur. Can you tease a little of what we can expect from the episode?
King Arthur is one of those characters that everybody knows. We've all heard of Camelot and the Knights of the Round Table, Merlin, and Excalibur. But most of us can't answer the simple question: was any of it real? Was there a flesh and blood Arthur? We set off on an epic journey across England, Wales, and Scotland, and what we find may change how you think of this legendary king.
We'd like to thank Josh Gates for chatting with us about the second season of Expedition Unknown.
Season Two of 'Expedition Unknown' Premieres Wednesday, October 7 at 9:00 p.m. ET/PT on Travel Channel.
Be sure to keep up to date with Josh Gates and all his adventures by following him on Twitter @joshuagates.