You might recognize Krysta Rodriguez from her roles on Broadway or NBC's Smash. She's currently guest-starring on ABC Family's Chasing Life as Vanessa, a supporter and confidante of protagonist April Carver. Read on for our full interview!
It seems like you're a perfect fit for your part and also the show in general – did you hear about the part and decide that it was something you were interested in, or did someone seek you out personally?
It was a combination: I released a blog about what I was going through and people got wind of it over at Chasing Life, and at the same time, a friend of mine who was on the show the first season had been in talks with them and told them what was going on with me. They were writing the second season at the time, so they actually wrote the character for me. They had an idea of an older character, somebody wiser to talk April through some of the decisions that were coming in the second season, but then when they heard about me and my situation, they decided to make [that character] me – younger and a little more sharp and edgy and assertive. It was sort of tailor-made for me!
That's really cool. Has that ever happened to you before?
It really hasn't. When you do Broadway musicals and you workshop them for a long time, your role gets tailored to you as you're doing it and songs get written for you and things like that, so I've had that experience, but never on a TV show. You could say maybe on Smash that they wrote things they thought were right for me, but I've never been told, "Hey, we've got a part for you!"
You're a cancer survivor yourself – had you heard of Chasing Life before you became personally involved with the show, and what did you think about the premise of a 20-something career-focused woman who gets diagnosed out of the blue?
I did – I knew about it before I had cancer, mostly because my friend Andy [Mientus], who was on Smash with us, was on the first season. I had watched some of his episodes but had not been that familiar with the show until my involvement with it, so then I went back and familiarized myself with everything. When I read the first episode of the second season … I just kept laughing and nodding and crying, and there were a lot of times when I was like, "How do they know?" What's funny is that I really do relate more to April than Vanessa in a lot of ways because I'm very career-driven and I'm in the thick of things and having to make decisions in the moment. I have a great support system around me, but even when you have these great people around you, it's still hard to navigate this thing. Vanessa has already figured it out and she's going through it knowing almost exactly how it plays out and not needing that validation. I get to be this confident girl, but I relate more to this very upending time in life and trying to find the ways it can be transformative in a good way.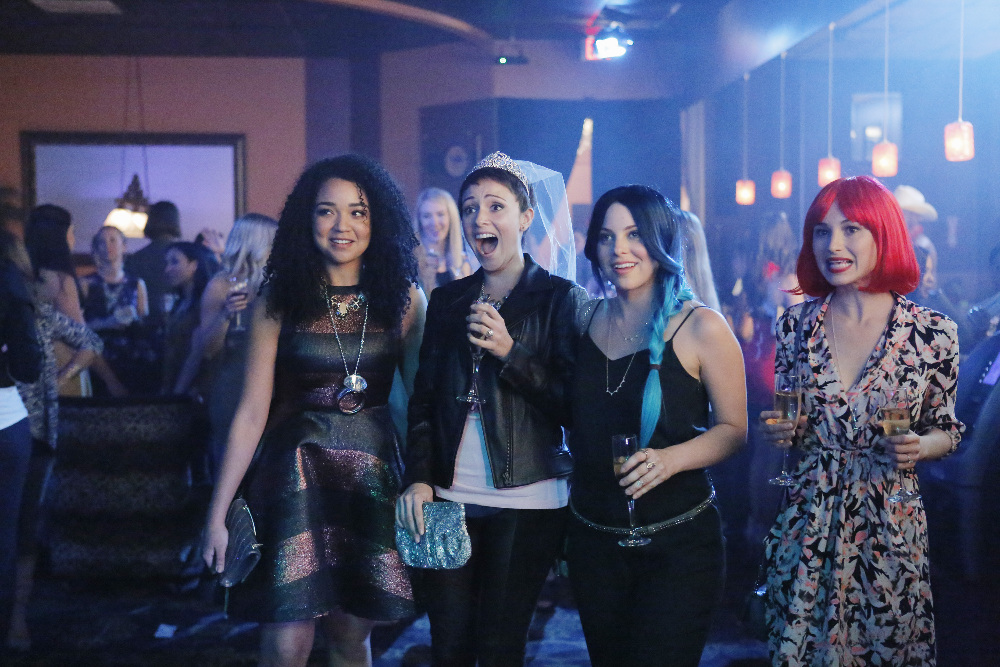 In our recent interview with Chasing Life producer Patrick Sean Smith, he said your character is a counterpoint to the Leo character. Leo adopts this idea of himself as a modern-day Robin Hood while Vanessa is more focused on putting herself first and attending to her own needs, especially after all she's been through. Would you agree that those two characters are opposites in some ways, and how do you think that affects the show and April?
That's a perfect way to put it. Leo is one who would sacrifice everything for the people he loves, and with Vanessa, she was a person who was giving too much of herself to other people. You learn even more about her story and where she comes from later in the season. A life event like cancer – any major catastrophic event – changes you in a way, and sometimes it narrows in on one part of your personality and magnifies it. For Vanessa, that was the fact that she needed to stand up for herself, and now that she's done it, she's not stopping. She's still very caring – she takes an interest in April and wants April to also own herself as an important person, not just as a careerwoman but as a human. I think Leo and Vanessa both work simultaneously from different directions to influence April and form her into a new, fearless person. Anyone can tell you to be fearless, but you can't always be that way unless you're protected and loved by someone.
How do you think the character of Vanessa changes April's cancer experience as a whole?
Everybody who's an actor views the whole thing from the perspective of their own character, so in my mind, Vanessa's running the show. She tells April not to worry so much about her job, and in the next few scenes, April quits her job. She tells April not to take her doctor's advice about the clinical trial, and by the end of the episode, she picks a new clinical trial. In my mind, Vanessa's sort of pulling the puppet strings a little bit – of course, that's an overexaggeration, but she's making April think about things that she maybe otherwise wouldn't have. From my experience, when I was diagnosed, it was me and my family and none of us knew what we were doing [beyond] Googling things, which is so dangerous. When someone would come in and give us some perspective, you felt a little more empowered. You could talk to somebody who'd been through it and would tell you things that maybe the doctors weren't even going to tell you, because sometimes the doctors only like to tell you what's in front of your face so you don't anticipate bad things. April went through this with her family for the first season and now she's getting other people telling her what's on the other side of this and giving her advice about being her own person and making her own choices. It's a hard balance to strike when you have professionals telling you what to do, but you have to trust your gut and that's the role that Vanessa is playing – trying to teach April to trust her gut.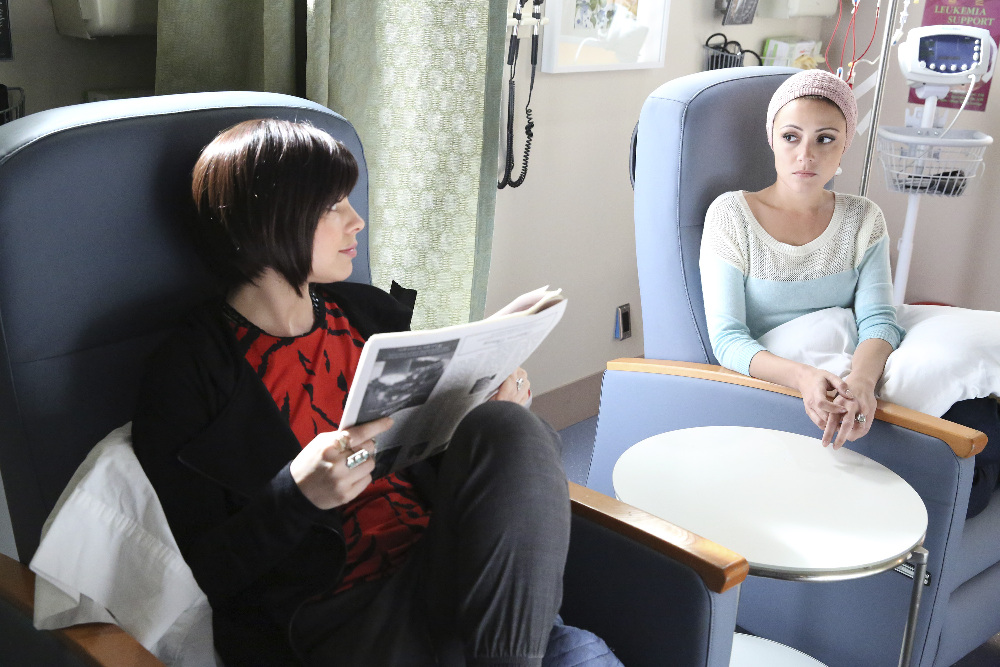 In your own life, you have your ChemoCouture blog and you write for the Cosmo health and fitness section as well. Do you see your role on Chasing Life as another opportunity to tackle the topic of cancer in a public setting and perhaps a way people wouldn't expect?
I mean, yeah, the show itself is doing it. There are many different kinds of cancer and they affect people of all ages, but I had just turned 30 a few weeks before I was diagnosed, and to be told that you have breast cancer… I had no history of it in my family, I don't carry the genetic mutation, [and] it was such a strange thing to be confronted with. Even my doctors were like, "This doesn't happen at this age. You are rare." So I used the blog as a way to reach out to people to hear that it's not so rare. The first day that it came out, I got over 30,000 hits from people saying "I'm 26, I have breast cancer," "I'm 29, I have breast cancer," "I got diagnosed at 34 when I was pregnant with my first child" – there were so many stories, and you start to feel like you're not so alone. We generally hear about somebody older [getting cancer], or pediatric cancer on the other side of the spectrum, so the fact that there's a story out there of a woman my age who has cancer, it's a really cool way to present people who are, for lack of a better word, in the prime of their lives. They are not just gonna be able to retire and relax – they still have so many things going on. They're not done yet with the things that they want to achieve. I think the show really narrows in on that and I think this is an opportunity for a lot of people to see this is happening, it's happening to this age group.
For me personally, my tumor started growing at age 25. I had it checked all the time but I couldn't get a screening because I was 25, so the more we can talk about the fact that this is happening and this is real and we can't just say "You can't get a mammogram until you're 40 because women don't get breast cancer until they're 40," the more I feel like I can help people.


Follow Krysta Rodriguez on Twitter (@krystar0driguez) and Instagram (@krysta_rod), and check out her blog, ChemoCouture. Catch Krysta on Chasing Life tonight at 9/8c on ABC Family!