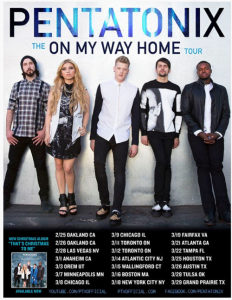 Forget what you think you know about A Capella music. It's not all "Pitch Perfect" and college campuses. In fact, what I witnessed last week at the Theater at Madison Square Garden absolutely blew my mind. Pentatonix goes beyond what one would expect of an a capella group that got their start on NBC's "The Sing Off". Although they won that competition, it didn't exactly make their dreams come true. It was, however, their immense talent, dedication, work ethic, and amazing personalities that turned them into global superstars. With a little help from YouTube.
Pentatonix kicked off their "On My Way Home" tour on February 25th and proved to their fans that this time, they were taking things to a new level.
I settled in to my seat, which wasn't bad at all. The front of the stadium was already packed with the General Admission bunch — the first few rows full of youngin's who had undoubtedly just come from the highly coveted and in-demand VIP meet and greets with the group. You, too, can experience one of these for a price that usually ranges from $150 to your first born $300 dollars. Ouch. But I have no doubt in my mind that it was absolutely worth it for everyone who experienced it. My jealousy began to sink in.
I tried to perk up my mood. Because I knew I was about to experience live, for the first time, some of the most talented individuals around. It just had to be a great show, right? Right?
Right.
During this live show, it was my turn to stare at the stage with my mouth hanging slightly open and my hand on my heart. In fact, when Scott Hoying belted out certain high notes, I felt my hand rising to the sky like I was in one of those 90s Christian infomercials for a 2 disc compilation CD. He took me to church on songs like "La La Latch" and "Let's Get It On".
When Avi Kaplan took the microphone, I swear I felt some of his low notes in my chest. I felt my heart absolutely vibrate. It was intense! And kind of insane. I loved every minute of it.
Don't even get me started on Mitch Grassi. I've decided that I just refuse to believe he's real. He has a voice that is so effortless; I just can't even believe it sometimes. The notes he is able to hit — and I'm not just talking about those flawless high notes he's famous for — are unreal. For me, Mitch shone the most on songs like "Aha" and I found myself smiling like a big ol' goofball every time the screams for him were the loudest. His new confidence is contagious and it really made you feel like a part of something special.
Kirstin Maldonado really got the crowd pumped. Especially on songs that showcased her vocals like "Rather Be", I appreciated her love and attention for the crowd.
And Kevin Olusola? Don't. I swear there were tears coming out of me at one point. There must have been something in my eye. Fog machines and all that. But I don't know how he does it. This is out of this world.
There was something for everyone at this show. A Greatest Hits selection if you will. It had everything from the first song they ever arranged together ("Telephone") to a tour exclusive ("FourFiveSeconds"), and any fan of Pentatonix would have been delighted. The biggest screams of the night came when PTX busted out their fan-favorite mash-ups that included the now infamous "Evolution of Music" and "Daft Punk Medley".
This crowd only screamed when it warranted it – any other time, there was a hush amongst the crowd, just waiting to hear what would come next. Like when Scott Hoying proved his vocal runs could last forever and Avi Kaplan dared to gyrate his hips on stage. An EMT ran through the crowd sometime later.
Most of this was on display during the tour favorite performance of "Let's Get It On". The boys bring up a beautiful girl to be serenaded on stage. I don't know about you, but where do I sign up to get Avi draped across me while the others sit on my lap? I knew from Avi's introduction — a deep and low "Oh, yeah." — that things were about to get real. It did not disappoint. That is a voice that isn't just for telling you bedtime stories. (Just me?)
The night ended with some audience participation with their hit original song "On My Way Home". Taken off their latest release, "PTX Volume 3", it is, in my opinion, their best original song to date. They continued to prove their talent with an off-mic performance of "That's Christmas To Me".
It was hard to find a negative thing to say about the show. If pressed, I would say I had only wished it would have been a little longer. I really enjoyed the parts of the show where the group played off of one another. There was a moment where they detailed their beginnings and even showed a clip of Avi crying at The Sing Off finale. The fun banter was very enjoyable and it would have been great if there was more of that.
I recommend going to get yourself a ticket to see Pentatonix live if only to see that they actually exist. Their talent is incredible. They are the real deal. Pentatonix manages to do the unexpected – combine A Capella music, raw and uninhibited talent, and now, sold out stadiums.
And did I mention they just went platinum?
Pentatonix is wrapping up this tour but they won't be on a break for long. They're about to hit the road with Kelly Clarkson! For more information on everything Pentatonix and their upcoming tours and appearances, check out their official website www.PTXOfficial.com.