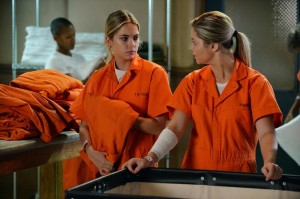 The trial of Alison Dilaurentis has begun. What will be revealed?
Read on for our recap of Pretty Little Liars 5×23 "The Melody Lingers On".
As the girls ponder whether or not to attend Alison's trial, the prosecution sets out to prove that Alison is a murderous pretty little liar. The trial kicks off by trying to prove that Alison was never kidnapped, and her friends were all in on her adventurous tale of lies.
Also revealed during the episode:
Alison was communicating with the Varjak phone number and whoever was on the other side, knew about her mother. She says the texts stopped when Mona was gone.
Jason, still dreamy, is put on the stand and his affair with Ashley is outed as the reason he changed his mind about Alison's alibi and innocence.
The mysterious Varjak phone number gives Aria a call and French music is playing. Hanna has heard the music once before in Mona's room. Are there more secrets in Mona's room? Apparently so. The girls hear the music coming from the window and arrive to see someone has torn the room apart. Aria suggests that A never found anything so they should look anyway. Hmmm.
The girls find a poem/riddle/some jumble of sentences inside a hand mirror.
Andrew is creeping outside looking angry. ANOTHER Red Herring? Do we have time for this? Does anyone care about Andrew? Where's Wren and the 100 other more interesting suspects? Remember the glorious days when Ezra was A?
Judgement Day is coming in Rosewood. What will the jury decide?
We are just 1 episode away from the reveal of Big A.
What did you think of Pretty Little Liars 5×23?