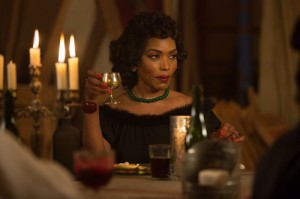 Dandy sees his biggest dream finally coming true…
Read on for our recap of American Horror Story: Freak Show new episode, "Show Stoppers".
There's a party going on inside the camp, to celebrate the new owner Chester, and Stanley, the man who is about to make Elsa's dreams come true.
Elsa and the freaks have a gift ready for him… his museum assistant's head. The freaks are ready to get their revenge for what Stanley did to them. Before they turn him into a freak, and dress him like Meep, he reveals that Elsa killed Ethel. The freaks decide to get their revenge.
The twins warn Elsa about their plan, so she leaves and meets with Dandy, to sell him the Freak Show.
Elsa tells Jimmy what his father did to Ma Petite, and that she killed him for that. Elsa tells him she will take care of him, and his missing hands, with the help of an old friend. It's the doctor who gave her new legs many years before, Massimo. He gives Jimmy new hands, only they are like his old, lobster hands.
Dot and Bette are happy with their new lover Chester, even if his doll Marjorie keeps on telling him that they have to go. Moreover, Dandy pays them a visit, to warn them that Chester is a psycho.
While rehearsing a magic trick with Maggie, Chester saws her in half, allucinated by visions of his wife, her lover and Marjorie. The other freaks don't seem to be too much affected by Maggie's death, and they let Chester go. In a rage, he "kills" his doll and then turns himself to the police.
Next week's episode will be the Season Finale.