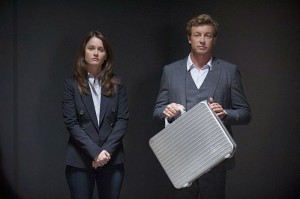 While discussing their future, Jane and Lisbon investigate a decorated war hero. Jane's instinct tells him he killed his wife…
Read on for our recap of the new episode of The Mentalist, "The Silver Briefcase.
Note: from January 2015, The Mentalist moves to Wednesdays, starting January 7, at 8pm.
Lisbon brings up Jane's idea to quit the FBI, and Jane says that it was just a thought, but he thinks there are many things they could do, aside from fighting crime together. Lisbon says that it wouldn't be easy for him to quit, because despite what he says, he actually enjoys working on cases, he enjoys the mental stimulation.
And a chance encounter with Colonel Raymond, Marines, decorated war hero, who Lisbon met at a FBI seminar, gives Jane the opportunity to put at work his skills. He says to Lisbon that something's strange with him. Lisbon explains that his wife was murdered eight months ago, and a man was arrested. Jane is not so sure though, and would like to investigate the colonel. Abbott gives his permission, but not officialy, and Raymond doesn't have to know.
All the evidence seem to clear Raymond's position. He couldn't have killed his wife, because at the time of the murder he was already at work. His wife drove him that same day. There is a red light photograph proving it.
Jane and Lisbon go see the crime scene, Raymond's former house. They come up with a theory: the time of death was calculated from the victim's body temperature. Inside the house there was a fan, pointed right at her, as if it was very hot that day. But it wasn't. Jane thinks Raymond had turned the thermostat all the way up, telling his wife it's broken. Then he turnes it off after he kills her. The room and the body cool off slower, so that it seemed she died later than she actually did. Raymond could be the killer. Looking at the crime scene's photos then, they see the front door was wiped down for prints. But since it was Raymond's house, and he didn't have to worry about leaving prints, he was probably covering for somebody else. A lover. The woman in the car with him, dressed like his wife.
The team figures his lover is a marine.
Jane and Lisbon need to get a confession from the couple, otherwise they have no chance to reopen the case. So they make believe Raymond and his lover that they have evidence linking one of them to the crime scene.
They expect a confession, they get Raymond and his lover accusing one another of the murder, both providing details that could be valid. Both could have done it, but we don't know who between the two actually killed Raymond's wife.
After the case is closed, Jane and Lisbon are back discussing their possible future away from the FBI. Jane is convinced they could do all sort of things. The conversation turns out to be Jane and Lisbon classic banter:
Lisbon: What's the plan?

Jane: Well, I don't have one as yet.

Lisbon: Well, that's a problem, isn't it?

Jane: Well, if we wait for a plan, we might never leave. Maybe we just need to quit and sit still for a while. Let lifehappen. Let a plan take seed.

Lisbon: Wait for plan seeds to grow? We'd drive each other crazy.

Jane: Maybe. Maybe not. Maybe we'd be very happy. Won't know until we try.

Lisbon: Aren't you happy now?

Jane: Well, I am happy for the first time in you know how long, but I'm scared.

Lisbon: Jane, one of us could get run over by a bus tomorrow.

Jane: Not if we're on a beach in Polynesia. Buses can't go on sand.

Lisbon: You could get eaten by a shark.

Jane: Not if you don't go in the water.

Lisbon: That sounds pretty boring and wussy, don't you think?

Jane: Yeah, they have palm trees and hammocks and cocktails and sunsets, pineapples…

Lisbon: And endless boredom, sunburn, bugs the size of helicopters. I've been on vacation.

Jane: Now you're just being negative. It was an example of we could avoid buses. But we could do anything we want. We could learn to sail, buy a boat, sail around the world.

Lisbon: Yeah, right.

Jane: what? I always wanted to do that. A lot of people do it.
I mean, we could do it.

Lisbon: As in whales and storms and pirates? Scurvy? And besides, I get seasick.

Jane: You do?

Lisbon: Yeah.

Jane: How badly?

Lisbon: Pretty bad.

Jane: Maybe you'd get over that.

Lisbon: We are not sailing around the world.

Jane: All right. Beekeeping? Who doesn't like honey?

Lisbon: Oh, you just come up with the best ideas. Beekeeping?

Jane: Well, I think you'd look very cute in one of those little beekeeping suits.

Lisbon: How is that romantic?
Jane says something during the conversation: he's happy. Finally he is happy since such a long time, since his family was taken away from him. But he's scared. Scared that something bad could happen to Lisbon, if she keeps on working for the FBI. He has already lost the love of his life once, it is natural for him to be scared it might happen again. Lisbon seems to be more practical, but would she be ready to leave the job she loves so much for Jane? And would he be able to stay at the FBI for Lisbon? How will they solve this?
This episode was directed by Simon Baker, and his fine touch was visible in every detail, but I think the murder's reenactment from the two different points of view was especially well done. All the episode had a Columbo feeling about it, but we only think we know who the killer is since the beginning of the episode.