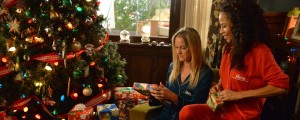 The Fosters 2×11 picks up where 2×10 left off back in August – with that Brallie kiss. Brandon says they have to stop, Callie says she's not getting adopted and she loves him, then Brandon says he has to think and goes off to sit morosely on the sidewalk. He sees a tree in someone's front yard and thinks back to Callie and Jude's first Christmas with the family – complete with "Baby's First Christmas" baubles featuring their photos and Brandon making a vibrator joke. We're off to a good start. Read on for the rest of our recap of The Fosters 2×11, "Christmas Past."
Spiritual, not material
The neighborhood is having a house-decorating contest for the holidays, but while Jesus and Stef's mother Sharon want to go all out to win the $250 prize, Stef's more worried about preserving the money they have. She sets a $40 limit on gifts and reminds everyone that this year, Christmas will be spiritual, not material. She insists her family is the best present she could ever ask for. (Meanwhile, a UPS truck pulls up with gifts Sharon ordered, so I'm guessing the phrase "Like mother, like daughter" doesn't apply here.) Unfortunately, the warm and fuzzy spell is quickly broken when a charity worker appears at the door with a gift for Callie and expresses her wish that as a foster child, Callie will find a "forever family" soon. Ouch. Given that this is a flashback episode set between episodes 1×21 and 2×1, we don't know anything about Robert Quinn yet, just that Callie and Jude have different dads – and that Callie does not need a reminder of that right now.
As Lena sorts through boxes of decorations in the garage and fumes about her mother electing to spend Christmas with her half-brother this year, Stef gazes balefully at boxes of something less festive – her deceased father's bank statements. When she takes a closer look at the papers, she gets a shock – a $150,000 shock, to be specific. But if Frank didn't leave the money to her, who got it? The UPS truck, the piles of additional gifts under the tree and a grinning Sharon provide the answer. Stef is… well, "not pleased" is an understatement.
Meanwhile, Brandon, Callie and Jude are shopping for their Secret Santas, which gets all kinds of awkward when Brandon reminds Callie that a kitchen table was the first thing she wanted to buy for her apartment, even though "the floor was pretty comfortable." I see what you did there, Brandon, you outlaw.
Callie admires a $100 bracelet that's outside their budget and ends up buying something small for Daphne before visiting her at work to drop it off. In exchange, Daphne hands her an application to work at the burger stand. Hey, now we know how Callie got that job! Daphne's bummed because her social worker still won't let her visit her daughter, and when she admits she's been secretly watching the little girl, Callie makes her promise to stop. She doesn't, of course, and on Christmas Eve, Callie and Brandon rush to the burger stand after receiving an SOS text. Daphne's there – and so is her daughter, Tasha. They manage to return the toddler to her foster parents' house, but it's a close call.
"Half is not full"
Back at the Foster house, money is still a big topic of conversation. Jesus enlists Mariana to help him decorate on a budget, while Stef and Lena bicker about Sharon's inheritance and Lena's half-brother. Jude comes downstairs just in time to hear Lena insist that "half is not full" and slips out through the front door to take a bike ride.
Why does Lena hate her half-brother Nathan so much, anyway? The Fosters 2×11 reveals that he called her mother "a name" a long time ago (bear in mind that Lena's biracial and Dana's African-American), and although Dana's forgiven him, Lena hasn't. Stef theorizes that sometimes people use hateful words "because they hurt, not because they hate," then gives Lena a heads up that Jude may have overheard what she said.
Later, Lena approaches Jude in his room. He's holding a box containing the bracelet Callie saw at the store. Lena tells him about her brother, explaining that her father had a child with another woman before he met her mother, and when Nathan would visit their house, he wasn't very nice. Jude suggests he was jealous and Lena agrees, then admits she's feeling jealous that her mother chose to spend Christmas with Nathan instead of her. She reassures him that although the bracelet is beautiful, he doesn't need to make up for Callie not being adopted by buying her a fancy gift.
Cut to a guilty-looking Jude returning to the store and admitting to the cashier that he took the bracelet without paying for it. She asks what his budget is, then tells him it went on sale. A Christmas miracle? Not quite; she wishes him a happy Kwanzaa.
Nothing but thongs
As everyone sits down to Christmas Eve dinner, it turns out Jude isn't the only one who bought jewelry for someone else in the family this Christmas. When Lena presents Stef with diamond earrings, they don't exactly have the intended effect – Stef has a meltdown about finances that quickly metamorphoses from being about Lena's spending to her mother's, particularly regarding the Christmas gifts for the kids and the wedding gift of a bed for herself and Lena.
Stef: A bed is a very personal thing, and not only did you buy us a bed without asking us, but you got rid of the one that we loved.
Sharon: Look, if you don't like the bed, please, just let me –
Stef: We don't. We don't. Not everybody likes memory foam, and, you know, it's practically ruined our sex life with the up and the down and the thing in the middle, and –
Brandon: Is something burning?
Stef: I mean, what would you think, Mom, if I went into your underwear draw and I, say, threw away all your favorite pairs and filled it with nothing but thongs, hmm?
Sharon: Well, actually, I wear nothing but thongs, anyway. Want to see?
Stef: No, Mother, I don't want to see your thong.
Turns out that Brandon's question was actually legit because the lasagna that was meant to be for dinner… well, won't be for dinner on account of it being charred beyond recognition. Lena promptly has her own meltdown, claiming she's trying to have a nice Christmas but Stef and her mother are ruining it. Sharon marches to the tree, grabs a gift box for Stef and makes her open it: Inside are college investment accounts for all of the kids.
The spirit of Christmas
Meanwhile, Jesus and his main competition in the decorating contest – an elderly man who lives nearby – join forces to fend off a band of decoration-stealers. The man comments that even though the Fosters are different from the families of his day, which were headed by a mother and father who kept any adopted children a secret, he's glad they have each other. Jesus feels bad that his neighbor is going to be alone for Christmas and removes the Fosters' house from the contest so the older man can win.
On Christmas morning, Lena calls her mom and asks to speak to Nathan so she can wish him a merry Christmas, Callie loves her bracelet from Jude and gets a drawing from Wyatt that makes Brandon jealous. Later, she finds Brandon sitting outside, claiming he doesn't feel very in the spirit because – remember this is a flashback – he's not sure how well his hand is going to heal. Callie gives him a cheesy present (a tie that looks like a piano) and a real present (a metronome), and urges him not to give up.
"Brandon, you can't think like that. What if I'd given up and gone into Independent Living? I'd have a kitchen table without a family to sit around it. Let's promise each other that no matter how many setbacks or stuff that gets in our way, we never let each other give up on our dreams."
Remember how almost the whole of The Fosters 2×11 was a flashback? I forgot too, but suddenly we're back to the present. Callie cautiously approaches Brandon and sits beside him on the sidewalk. They exchange a wordless glance, then get interrupted by sirens as an ambulance races past. I'm guessing that's for Callie's half-sister Sophia, who wasn't exactly in an awesome state of mind at the end of The Fosters 2×10, but we'll just have to wait until the show returns on Monday, Jan. 19, at 8/7c. Check out the preview:
ICYMI: We interviewed Maia Mitchell, then caught up with Cierra Ramirez and David Lambert to chat about The Fosters 2×11 and what's coming up in the second half of season 2.