by Allyson Koerner
Last week's episode ended with Drew's death, and this week's episode opened with the discovery of his death. As Carmen and Elena learned of Drew's passing, Christopher was busy letting Heather go, John Ross dealt with the aftermath of Pamela's "suicide" and Emma began a plan to get revenge on her daddy.
Read our recap of Dallas 3×10: "Dead Reckoning" to find out more!
Drew, RIP
The episode opens with Nicolas and the cartel placing a fired gun in Drew's hand in attempts to make his death look like a suicide. Can we talk about how disgusting Nicolas is? He stands there in silence as Elena and and Carmen learn about the death of their brother and son, respectively. And, yes, he continues to cover up what really happened. In the end, the autopsy rules Drew's death a suicide (note: Carmen notices Drew's St. Christopher medal is missing from his personal belongings, and I'm sure that will pop up sooner rather than later) and law enforcement reveals to Elena, Carmen, Bobby, Sue Ellen and Christopher that Drew did indeed start the fire at Southfork.
Three's a Crowd
Christopher continues to show his goodness in tonight's episode by walking away from Heather and Michael. Not only does he pay for Bo's spinal cord treatment (in Tel Aviv, Israel), but he gives up Heather and Michael, so they can be a family again with Bo. As Heather tells Christopher, "I guess we're always connected to our first love."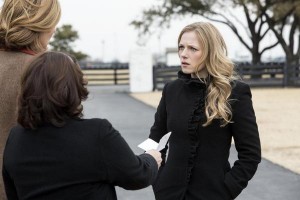 Men: Can't Live With Them, Can't Live Without Them
Onto Pamela and Emma. These two have more in common than sleeping with John Ross. They both want to destroy the men in their lives aka John Ross and Harris. Let's start with Pamela. She finally talks with John Ross, resulting in her cutting him loose. In the words of Pamela Barnes, "There will never be enough success, enough money, to fill that hole where your heart should be." Ouch. Now it's time for her to make herself a priority. How? By remaining married to John Ross. Seeing as they never got a prenup, she can't let him win or leave their marriage with more money than she came in with.
As for Emma getting payback, we can thank Drew for that. He left her a letter telling her there is goodness in her. Emma blames her father for Drew's death, so the normal reaction is to ask that big, bad drug cartel to put Harris back in prison so she can take over Ryland Transport. Daddy better watch his back.
A Little Liquid Courage
Elena's spiral continues. Upset from Drew's death and learning about his hand in the fire, she confesses to Carmen about the switching of the Southfork deed. So, mommy and daughter unite. Carmen informs Elena that John Ross is holding onto a letter from J.R., which proves Cliff Barnes was framed for J.R.'s murder. They can get revenge on the Ewings by getting that letter. With a little liquid courage, Elena sleeps with John Ross and steals the letter. Most importantly, let's all remember Nicolas poked holes in Elena's diaphragm. She's totally going to get preggers, right? In honor of Maury Povich, the question now is: Who is the father?
Did Dallas 3×10: "Dead Reckoning" lasso you in? Let us hear your thoughts in the comments!