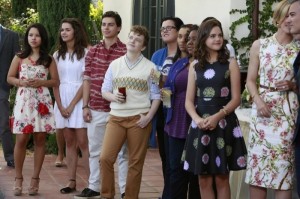 Remember The Fosters 1×10, when Callie ran away after kissing Brandon at Stef and Lena's wedding? How about Brandon's severe beating at the end of The Fosters 1×21? One thing's for sure – this show has a history of dramatic finales, and the last episode of season 2a was no exception. Read on for our recap of The Fosters 2×10, "Someone's Little Sister":

The episode opens with Callie visiting Rita's house to discuss what's next for Girls United following the fire. As it turns out, probably nothing – people don't want group homes in their neighborhoods, Rita doesn't have money to buy a house on her own, and the county is threatening to revoke her license. Later, at work, Daphne suggests that Callie ask biological father Robert to hold a fundraiser, but Callie isn't keen on the idea. Just then, Robert shows up to tell her he signed the abandonment papers, meaning Stef and Lena can start the process of adopting Callie. Despite her previous reservations, Callie asks about the fundraiser, and Robert agrees.
Girl trouble and mama drama
When Jesus defends how much time he's spending with girlfriend Hayley, claiming she's struggling because her parents are getting divorced, Mariana says she's milking it and being needy. Later, Mariana asks to grab her nail polish from the bathroom while Jesus is in there moisturizing his tattoo of Hayley's name. He tries and fails to hide the ink with a towel. In exchange for Mariana not telling Stef and Lena, he very reluctantly agrees to accompany her to Mike's apartment to meet with their birth mother.
After Ana apologizes for loving getting high more than she loved the twins, Mariana says she feels nothing for her birth mother and just sees "a very sad stranger." When Jesus offers comfort, Ana says that he would always try to take care of her as a kid but it wasn't his job then or now.
For once, the girl trouble isn't exclusive to Jesus, as Brandon also has his fair share in The Fosters 2×10. After Lou leaves band practice early for a date, Mat warns Brandon that she has a history with band boys. With this in mind, Brandon rewrites a song that Lou criticized for being too lovey-dovey – and he isn't exactly subtle about it. When she calls him out, he claims he thought she'd be able to relate to it. Ouch. They fight and then make out because they're crazy teens.
Principal vs. principles
At Anchor Beach, it's the new principal's first day. She's business-minded and wants Lena to handle the educational side, so things seem to be going better than expected – at least until Jude comes to Lena's office and says they need to talk.
Cut to a bruised Connor and his father sitting in the office, both sticking to a story about Connor running into a doorjamb. Connor's father blames Lena for allowing Connor and Jude to share a tent together on their recent camping trip, which is a problem in his eyes because he believes Jude is gay. Lena calls him a bully and wants to report him, but the new principal says they have to respect the rules he imposes on his son. "If we didn't stand up to bullies and try to educate people, we wouldn't have civil rights and marriage equality," Lena points out. She quits her job.
What makes a family?
Back at home after her encounter with Ana, Mariana confronts Lena, who always claims that DNA doesn't make a family – love does. She asks why Lena wanted a baby of her own and accuses her of wanting a "real daughter."
Mariana: "I'll always be adopted. And Ana will always be my birth mother. I hate that I come from her. Why couldn't I come from you?"
Lena: "My baby, I wish with all my heart that I could've carried you inside me. Sometimes I feel guilty that I wasn't there for you from the moment you were born, but I realized something when I lost Frankie: You only carry a baby in your belly for nine months, but you carry your child in your heart forever. That's the only place that it counts. You do come from me, and from mom. And giving birth to you, that wouldn't have made me love you any more than I do."
The two hug, and Mariana asks Lena to help her with something later. The next day, her hair's back to brown.
Meanwhile, Callie's sleeping over at the Quinns' the night before the fundraiser, and Sophia has a battalion of questions of her own.
Callie's eyes light up when she talks about Brandon – is he the guy she loved before Wyatt? (Callie says he's her best friend and will soon be her brother.)
What about Wyatt? Did they break up? (Callie's not sure.)
Why does Callie call their dad "Robert"? (Because Donald is Callie's dad.)
Is it true that Donald killed her mom in a car accident and went to jail? (He was drinking and driving; yes, but he's out now.)
Why aren't Callie and Jude with Donald? (He can't take care of them.)
The Quinns can take care of her! (But she's getting adopted by Stef and Lena.)
Despite the third degree, Callie ends up sleeping in Sophia's bed.
The big day
As Someone's Little Sister performs at the fundraiser (and Brandon and Lou keep stealing not-so-secret smiles at each other), Stef tries to convince Lena to get her job back. Jude overhears and asks if Lena quit because of him. Lena says she cares more about defending him than her job, and Jude says she shouldn't because he and Connor did do "something wrong" on the trip.
Meanwhile, Rita asks Callie why she doesn't want Robert to be part of her life when he obviously loves her and wants to be a father to her. The conversation resonates with Callie, who gives a touching speech about Girls United and then publicly reveals that Robert is her father. After, Sophia pulls Callie aside and says she ripped up the abandonment papers Robert had signed. As they never got mailed, there's still a chance the two girls can be sisters. When Callie asks how long it will take Robert to get and sign new copies, he says he can't because he loves her. She lashes out, claiming she doesn't love him and will never live in the Quinns' house, then calls Sophia a "spoiled little brat."
As a distraught Sophia locks herself in the bathroom, Callie rushes out of the house. Brandon follows her, reassuring her that whatever happens, the Fosters will still be her family. Callie says maybe she was never meant to be adopted – after all, she gave up so much in order for it to happen. The squeals of Brallie shippers erupt across the globe as the two kiss.
What did you think of The Fosters 2×10?