It's graduation day for our Switched at Birth gang! But I feel like graduation is the last thing on anyone's mind. Why? Well. You'll see.
Read on for our recap of the summer finale of Switched at Birth 3×21: "And Life Begins Right Away" below:
Planning The Future
Bombs are dropped on our favorite characters left and right within the first 5 minutes of the episode. Bay announces to her parents that she finally knows what she wants to do with her life. She's going to follow Emmett across the country to LA and move in with him. John can barely contain his laughter but Bay is determined. She comes up with a plan that has her working in a cafeteria and using some of the money Angelo left her.
Emmett kind of seems like he could go either way. He doesn't even seem like he wants to go to this school. A thought that is mildly reinforced when he admits to Daphne that if Bay wasn't going, he wouldn't bother.
Travis walks in and announces that he has heard that Carlton is finally closing. The budget cuts caught up with them. How can they just close a school like that? Where will all of the students go? This is the least shocking thing in the first 5 minutes. Did I mention there is more?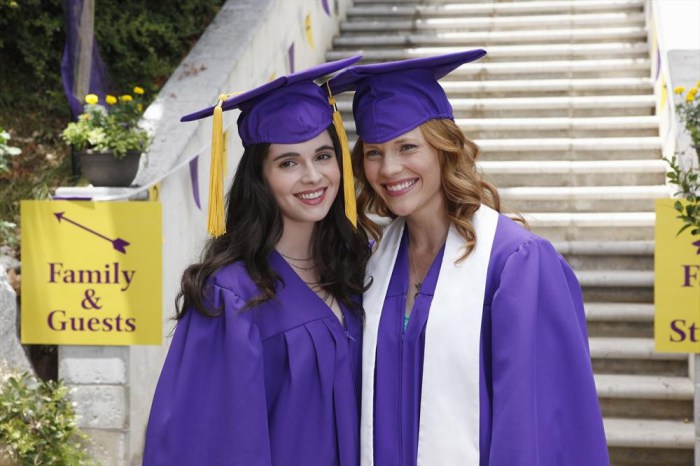 Switched at Birth 3×21
Life Interrupted
A detective shows up to the house to arrest Daphne. And this is after Wes promised not to say anything. He actually kisses Regina, announces he is giving up on East Riverside, and wants her to run off to Hawaii with him. Daphne left some fingerprints behind. This isn't good for her. She's on probation. She has a record. She's going to prison. Maximum: 3 years. Plea deal: 3 months. Her parents are fighting for her but she has accepted her fate. She wants to just turn herself in after graduation.
It's a pleasant day otherwise. Daphne gives an emotional speech that has me dabbing at my eyes. This show needs to quit making me cry. Travis' mom shows up and she's learning sign language. Yay! Then suddenly, the stage turns into American Idol when Sharee starts singing "Stand By Me" and I don't know what's going on.
All I know is, I want to get to the shocking twist at the end of the episode. I was promised a twist. I want a twist. Switched at Birth did NOT disappoint.
…TWIST!
Bay, a loyal sister, walks in to the police department with Daphne to offer moral support for when she states her confession. Only…SURPRISE!
Bay confesses to the whole thing before Daphne gets the chance. Bay isn't on probation. Whatever happens to her won't be nearly as bad…and it will give her some street cred as an artist.
WHAT'S GOING TO HAPPEN. I NEED TO KNOW.
What did you guys think of the Switched at Birth 3×21 finale? Switched at Birth returns this December with a special Christmas episode. Find out what happens if the switch never happened. Watch the preview here.