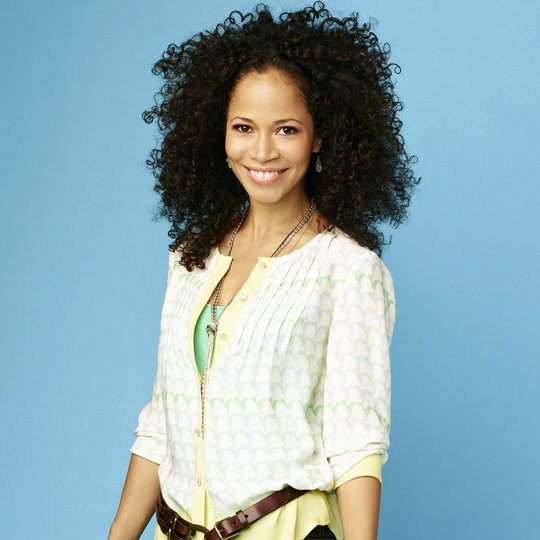 Sherri Saum can currently be seen starring as Lena Adams Foster on ABC Family's hit original drama series The Fosters. The beautiful and talented actress is part of a cast that delivers a groundbreaking show that has received award recognition and critical acclaim. It has been a hit with fans around the world and a popular addition to the ABC Family network.
Season 2A of The Fosters wraps up its run tonight and we had the chance to chat with Sherri about what fans can expect in the exciting finale. We also talk about her friendship with Teri Polo, Lena's bond with Jude, and the finale twist that will open up a can of worms for next season.
Read on for our exclusive interview with Sherri Saum below:
First off, I want to say congratulations on your twins! I'm so excited to talk to you again, thank you so much for taking the time.
Thank you. My pleasure.
So, you've had a great season 2 so far on The Fosters. I really enjoyed your storylines this time. But it was also very emotional throughout. I feel like I teared up quite a number of times.
Awww. Yeah, it was heavy especially because I was pregnant in real life and I was pregnant on the show but then I lose the baby. It was a beast. But it was a really well written season as they always are. I thought the mother episode was particularly one of Joanna Johnson's finest.
Was it challenging at all dealing with so many emotional elements this time around?
It was. As always I have Teri [Polo] and she's so funny no matter what we're filming. We always find humor and laugh and that gets us through the day. No matter what's going on, we're always laughing. The crew is so supportive and they made it a lot easier.
One of my favorite things to watch is how your friendship with Teri and that closeness shines through during your scenes. Does that kind of make things easier when you're filming together?
Oh yeah. You never know what your dynamic is going to be with who you work with in this business and she's like the best thing that ever happened to me as an actor. She's one of my closest friends now. I just learn so much from her and we play off of each other so well. We're so different but we're also very much alike in a lot of ways. It's a really strange and wonderful mixture.
My other favorite relationship on the show…I always love the scenes with Lena and Jude's character. They have this closeness as well that's really sweet to watch. Can you talk a little about the bond that they have?
Aww. I think in a way, as we saw this season, Lena has always kind of yearned for her own biological child, as contradictory as that is to everything she's always talked about with blood not mattering…It did kind of matter to her because she wasn't related to anyone in the house. I think maybe in a weird way, Jude being the youngest out of everyone, she kind of took him under her wing as his mom. He needed her the most and was kind of lost out of all the kids. She really needed him and vice versa.

Jude has had a difficult season as well with the issues with Connor and his dad. Can viewers expect more from that in the finale?
Definitely. The writers haven't put a label on anything regarding Jude, which is great. I think that's going to evolve in its own time as it should. He has a lot to work through but I think he knows that with Stef and Lena, he has all the time, space, and support to do that in his own time.
You guys have had lots of recognition this year at the Teen Choice Awards and the GLAAD Awards. How has it been to consistently generate that kind of reaction, support, and love for the show?
It's something that you always hope for an as actor, to make a difference, to change the way people see things and open their eyes and affect people in a positive way. You hope and dream for those kinds of things. It doesn't happen very often. It's a dream come true.
Can you tease a little of what's in store? Have you started filming season 2B?
We have not. I'm in the dark as far as season 2B. I trust these writers. They haven't let us down so far. The stuff they come up with makes it all the richer. I know that the summer finale is going to bring up as many questions as it answers. There's going to be some resolutions and satisfying conclusions but there's also new cans of worms being opened left and right. That will leave us really wanting to see 2B. I hope the fans feel that way too.

We'd like to thank Sherri Saum for taking the time to talk with us! Be sure to keep up to date with Sherri by following her on Twitter @SherriSaum1.
Don't forget to tune in to the summer finale of The Fosters tonight, August 18th at 9/8c on ABC Family.
If you haven't already, check out our interviews with Gavin Macintosh and Hayden Byerly and see their thoughts on tonight's finale!