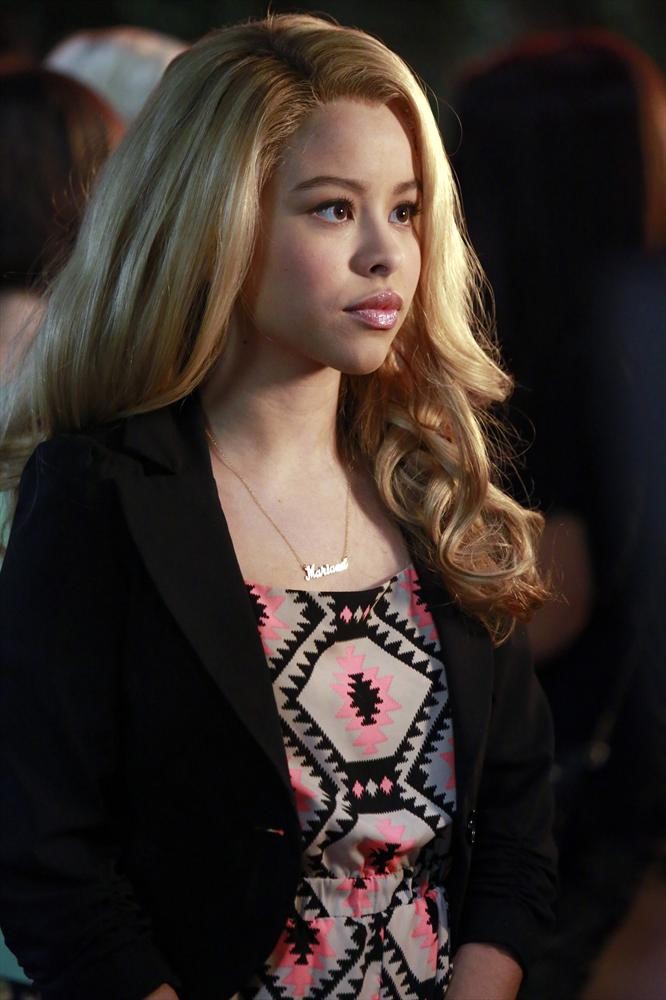 Cierra Ramirez stars as Mariana Foster on the hit ABC Family original drama series The Fosters. The first half of season 2 wraps up next week on ABC Family and we had a chance to chat with Cierra about what's coming up and why the finale had her on the edge of her seat.
She revealed what fans can expect in the summer finale, Mariana's struggles and insecurities when it comes to her identity, and what she was most looking forward to at this year's Teen Choice Awards.
Read on for our interview with Cierra Ramirez:
Pop City Life: Will Mariana's relationship with Mat help her with her recent identity insecurities?
I think he's a big influence in that; he has been from the start. At first, she's even commented, "Why are you all up in my grill?" But he really helped her open her eyes, and come in touch with her Hispanic side, for that matter. You can definitely see that in this next episode when Mat takes her to a Mexican festival. She's not very comfortable at first, but it definitely helps her come into touch with who she is.
PCL: Will there be any new developments with Mariana and her relationship with Ana now that she's attempting to make amends and stay clean and sober?
There might be, and that might have some influence on her coming more into touch with who she is, and what this blonde hair means to her. You might see a little comeback.
PCL: Who were you most looking forward to seeing at the Teen Choice Awards?
Magic! is going to be performing, and "Rude" was my summer song, so I'm just really excited to see them perform live. I'm just going to be so excited to be there!
What's it like to be on such an innovative show and represent such a strong family dynamic?
That is one of the big things that really drew me to this project to begin with. It deals with such universal topics that aren't really represented on TV, so I thought that this was really groundbreaking in its own. It's been a really fun process and fun ride and it's such a blessing to be a part of. That's the best thing, at the end of the day, is to have people come up and say that they relate to a certain character or storyline, or that they grew up in the foster system and they're really proud that something they can relate to is on the air. It's always a really cool thing to hear.
Cierra Ramirez went on to reveal what we can expect in the final episode of season 2A:
What can we expect from Mariana in the next few episodes?
Well, as you can see, she's made a very drastic change by changing her hair. You're going to see the reasoning behind her hair change, and it's going to come into play. With the dance team and this new group of friends, she's really been struggling to find out who she is, and in these next two episodes you will definitely see who she is.
What was your favorite episode of the season?
Definitely the finale, so you'll have to tune into that one! I've always loved cliffhangers and stuff like that. I just love being on the edge of my seat, and you definitely will.
What else can we look forward to in the remainder of the season?
You are going to see the reasoning behind Mariana's blonde do. You've seen Jude and Connor struggle with maintaining a friendship because of Connor's dad not approving of Jude, so you will see more of that; it'll get a little deeper into that. Rosie O'Donnell is going to be making another appearance on the finale, so that's going to be exciting. Callie's forced to ask her dad for some help as far as a fundraiser, so that's going to be fun.
Once again, we'd like to thank Cierra Ramirez for taking the time to answer some questions for us. You can check out our previous interviews with Cierra here.
Be sure to follow @CierraRamirez and tune in to The Fosters Summer finale this Monday, August 18th on ABC Family.