Has A taken this game to a whole new level? Is Ali really in as much control as she thinks? Hint: NO. This episode was great. Punches were thrown, hands were slashed, and sh*t got real.
Read on for our recap of Pretty Little Liars 5×09: "March of Crimes" below:
If you thought the reveal that Alison asked Noel to break in to Mrs. Marin's house was insane…well just wait. The detective is back and asking too many questions for Ali's liking. Aria is the first on her list. She wants to know how many other students Ezra was boning besides her. Aria is offended. Ezra wasn't just some creeper! Of course not, Aria. He just dated two underage girls and stalked/recorded/and watched them for a couple years. Totally normal.
Revelations
Speaking of creepers. Noel is back! And so is Jenna. Ah. It's just like the good old days, isn't it? Emily tries to be Nancy Drew this week but she fails so spectacularly. Girlfriend is not Spencer. But she's verbally on point. After an eye-opening trip to the eye doctor, Emily and Spencer discover just how close Sidney and Jenna are. Emily lets her know she betta sleep with one eye open coz lawd knows Jenna won't help her.
Emily catches Noel listening to an audio recorder of Alison in his car. With the windows down. Really loudly. She snoops for his locker combination, steals his keys, and then breaks into his car to steal whatever evidence he's hoarding. She discovers that he not only has recordings, but he has pictures of Alison from the time she was "disappeared". This is all evidence that could disprove her story and land them all in deep poo.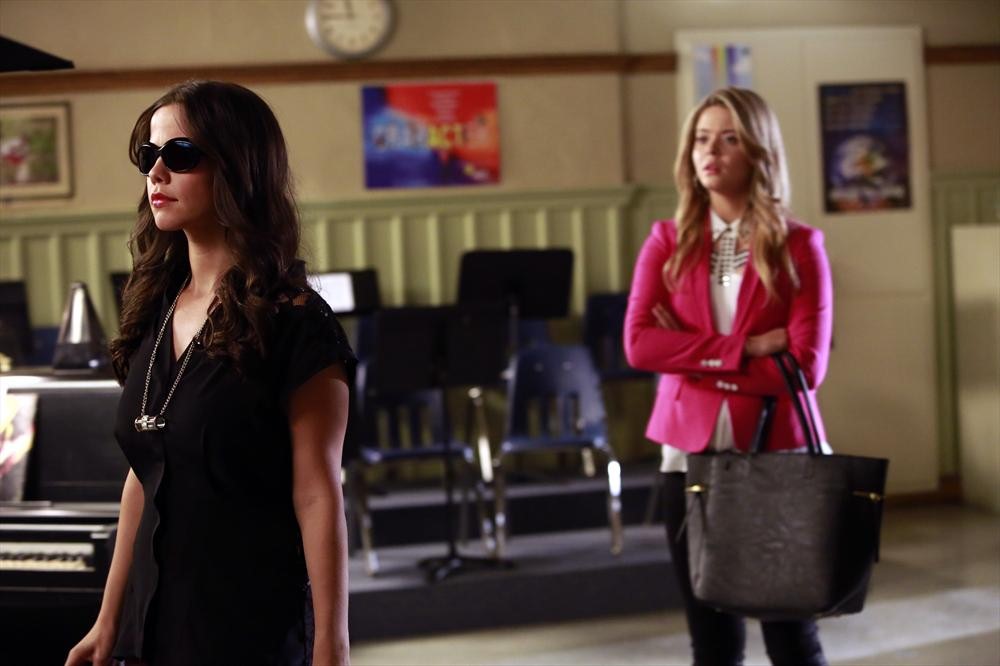 Boo
Spencer takes the evidence and decides to hide it in her lake house. Yes. Because the best place to hide something so important is in the dusty, abandoned house you never use in the middle of the woods with no surveillance whatsoever. Boy does Spencer get a surprise when she realizes she's not alone in the house. And all the viewers collectively pee their pants when a hooded figure appears.
It's not Casper. It's Noel. And he means business. He wants his stuff back. Spencer slices him in the hand and warns him she'll go after his face if he doesn't leave or start answering questions. In a shocking move, we actually get somewhere here. Noel confesses that this evidence is insurance for him. Shana took the pictures and Alison had Noel steal them from Jenna's house. Minutes before it blew up. He doesn't know if Alison meant for him to be inside or not but he doesn't want to wait around if she's going to dispose of him.
Damn. Does no one trust this girl? I love it.
Wedding Bell Blues
Hanna sinks deeper into her depression with alcohol and Spencer is sick of it. She confronts Caleb about his BS. She doesn't know what happened in Ravenswood and frankly, nobody cares. But the two of them need to get it together. Hanna tells Caleb the truth about Zach and it's annoying that she's not detailing how bad he was around her. Like he got in her car, touched her and pressured her.
Caleb takes matters into his own hands when he walks into The Brew and punches Zach in the face. This is the first time in a long time Caleb has been hot to me. YAS. Zach had a note from "Hanna" that encouraged him to advance on her. Did A give that to him? Turns out Ella was suspicious of his creepin' ways and the wedding is called off.
In one final blow, the police call to say that they caught the guy who kidnapped Alison. It's some new random guy. Did A pay him to confess? Did Alison?
What did you guys think of Pretty Little Liars 5×09?