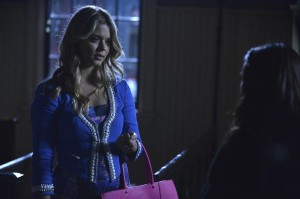 It may just be the most anticipated episode of Pretty Little Liars ever! It's an episode of reunions as Tyler Blackburn returns to the show as Caleb Rivers. The entire group is brought back together as Alison finally returns to Rosewood High.
We now have the preview and sneak peeks of "Miss Me x 100" along with the information on how you can watch the first act of the episode before it airs tomorrow on ABC Family!
Watch the videos for Pretty Little Liars 5×05 below:
TO CELEBRATE THE 100TH EPISODE OF "PRETTY LITTLE LIARS,"
 WATCH ABC FAMILY IS OFFERING FANS AN EXCLUSIVE SNEAK PEAK OF THE FIRST ACT
Pretty Little Liars 5×05

"Pretty Little Liars" 100th Episode Will Air on Tuesday, July 8th at 8 PM ET/PT
Burbank, CA (July 7, 2014) – ABC Family is making the first act of the highly-anticipated 100th episode of their hit original series "Pretty Little Liars" available to viewers for the next 15 hours via its authenticated WATCH ABC Family service until midnight tonight.
WATCH ABC Family allows viewers with participating TV subscription services access to 24/7 live viewing of the network, as well as on-demand access to the most-current episodes of the network's popular series at home and on-the-go via a wide array of devices, including desktops, smartphones and tablets
In "Miss Me x 100," the 100th episode of "Pretty Little Liars," the day has finally arrived – Alison's first day back at Rosewood High, and neither the PLLs nor Alison are really ready for it. Determined to put on a brave face, Alison returns to also help heal the damage she did years ago. But are apologies enough for those who Alison has hurt in the past? Not if Mona and her army have anything to say about it.
Meanwhile, Caleb and an old foe return to Rosewood.


TVLine also has a great sneak peek featuring Paige and Emily.