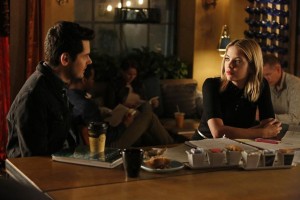 Tonight's episode of Pretty Little Liars may have been a bit of a snooze but it looks like next week, we may be getting some answers…maybe…possibly? And Lucas is back with his new hairdo. Will he be bonding with the New Hanna? And how will things go when Alison returns to school?
Watch the preview promo and sneak peeks for Pretty Little Liars 5×04: "Thrown From The Ride" below:
Pretty Little Liars 5×04:
THE QUEEN BEE STATUS IS NOT A GUARANTEE FOR ALI

IN AN ALL-NEW EPISODE OF "PRETTY LITTLE LIARS,"

AIRING TUESDAY, JULY 1ST AT 8:00 PM ET/PT ON ABC FAMILY

Burbank, CA (June 12, 2014) – The girls continue to feel the pressure at school and from Ali, as Mona makes plans for Ali's return to Rosewood High in "Thrown from the Ride," an all-new episode of ABC Family's hit original series "Pretty Little Liars," premiering Tuesday, July 1st (8:00 – 9:00 PM ET/PT).

With Ali now back in Rosewood, she attempts to regain the role of leader of the group, but she finds her four friends are not as willing to blindly follow her every whim as they once were. Besides feeling the pressure from Alison, Aria, Emily, Hanna and Spencer are also feeling under the microscope at school with the high school focusing their attention on the Liars. While most kids are morbidly curious about what happened to Ali, some are more focused on planning for Ali's return to school.

Meanwhile, Aria's depression continues to spiral, and she looks for comfort from an unlikely source.



Read our recap of tonight's episode "Surfing The Aftershocks" here.