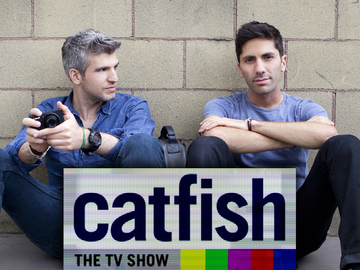 Celebrities are not immune to Catfish! Does this week promise to be the craziest yet? Actress and Broadway star Tracie Thoms guest stars as a celebrity in need when a superfan goes too far. Can Nev and Max help her reveal the truth? Sidenote: This episode features a guest appearance by a contestant from The Glee Project! Another special appearance? Nev's chest hair.
Catfish: Tracie and Sammie Recap:
If you're not familiar with Tracie Thoms, then educate yourself! Tracie is an insanely talented actress, singer, and Broadway star. Tracie may be most recognized from her work as Joanna in the movie and Broadway musical "Rent".
Was so star struck with @traciethoms mainly bc of her role in Tarantino's Deathproof! Asked her every question I could about it. #filmnerd

— Max Joseph (@maxjoseph) June 5, 2014
I am not at all surprised that this episode begins with Twitter. Twitter is the breeding ground for crazy nowadays. And not just from Justin Bieber fans.
We head to LA to hear the story of Sammie, the overzealous superfan. It started off innocently enough. She was an extremely helpful fan who enjoyed promoting Tracie's work. However, there wouldn't be an episode if it all stopped there. Sammie created multiple fan identities and even gave one of them cancer. THEN, she killed one of them off, uploaded video of a random funeral, and tried to get Tracie's address. She even gave herself one of those death scares. That is a weird way to get attention.
Nev is concerned that she could be dangerous but Tracie just wants to know if Sammie is stalking her.
The Search
The boys set out to see if she's still keeping up with this behavior and quickly learn that Tracie Thoms is not the only celebrity this has happened to. Her Facebook reveals that she is bi and "good at celebrities." Whatever that means. She has a son and a liking for several singing celebrities.
One face in particular that looks familiar is Marissa von Bleicken from season 1 of The Glee Project. After Marissa was voted off of the Glee reality competition series, Sammie started a campaign Twitter account for Marissa to appear on Glee. This account eventually morphed into Reese, AKA the fan that Sammie killed off.
The boys meet up with Marissa to hear about her experience with Sammie and learn that she was always too alarmed at the content of the fan mail she was receiving to ever respond. Props to Marissa for putting on some amazing faces during this meeting. She has a great face.
The Meet Up
They contact Sammie to arrange a meeting and she's "scared" because she knows she's been caught. I'm really curious what she'll be like. It's time to head to Philadelphia.
Nev kisses his girlfriend goodbye and we get an earful of Max saying "Ewwww!" Bonus: MTV knows what the viewers want. And what they want in this episode seems to be Nev in a towel doing dirty yoga positions. "That isn't helping the rumors" says Max. Neither is Max naked (?) behind that pillow.
So glad that clip made the episode. So glad. #catfish

— Max Joseph (@maxjoseph) June 5, 2014
Tracie and Sammie meeting up is relatively calm and uneventful. The girl is upfront about what she has done and seems nervous and apologetic. Tracie immediately asks her about Reese and Sammie admits she did that before it got too far. Killing off a fake person is the definition of going too far! And the funeral? It was Sammie's cousin!
Tracie seems very bewildered and alarmed through much of the conversations. We learn that Sammie has a rough life. Both of her parents are deaf and Sammie herself is gay and has a son. She created this bond with Tracie because she's lonely and doesn't have much of that in her real life.
In the end, they hug it out and it seems to be an episode with a genuine happy ending. Unless we hear about Tracie and Sammie on the 11 o'clock news that is.