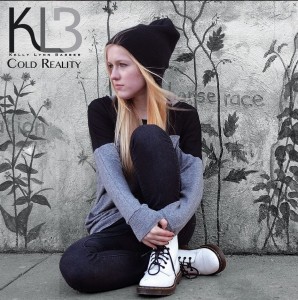 With our latest review, we want to talk about Kelly Lynn Barber, a fresh faced Pop/Rock artist who recently released her debut EP, called "Cold Reality".
Kelly is mostly inspired by Pop/Rock artists such as Avril Lavigne, Kelly Clarkson, and Michelle Branch.
The first track out of her EP we took a listen to was "A Hand I Cannot Reach". A powerful track opens the EP, with Kelly's voice melting perfectly with drums and guitars.
Guitars are played by Barber herself, in all the EP's tracks.
We next took a listen to "I'll Move". This track follows the first one with a really catchy chorus, always supported perfectly by guitars and drums.
We next took a listen to "Make Me Believe". This track highlights Kelly's beautiful voice, and the guitar guides it just as much as her voice guides the guitar, always going together in a tuneful mix.
"My Own Contradiction" (ft. Brandon Zemel) is the fourth track we took a listen to, and it's a definite standout. The soft begginning raises in a crescendo that explodes with all the power of Kelly's voice, the guitars and drums, and ends again softly and sweetly. It's absolutely a track that will stay in your head.
Kelly claims that she wants to "bring the same emotional experiences to her audience that she has when she listens to the raw music that she loves". And we certainly think she is heading in the right direction.
You can keep in touch with Kelly Lynn Barber via the following links:
Official Website: www.kellylynnbarber.com
Official Twitter: twitter.com/kellylynnbarber
Official Facebook: facebook.com/kellylynnbarber