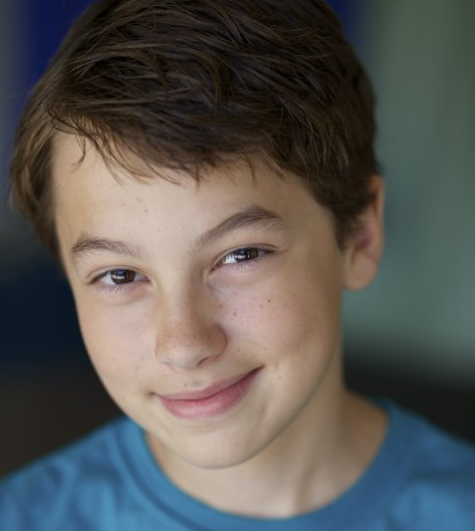 Hayden Byerly stars as Jude in the new hit ABC Family drama series The Fosters. At just 13 years old, Hayden has proven that he possesses a genuine talent that is able to shine through in this sensitive and groundbreaking role. The innovative original series sees Jude's character coming to terms with his identity while becoming a member of a new and loving family. Along with his older sister Callie, Jude looks to the future as his adoption into the Foster family becomes permanent.
Hayden Byerly will return to this starring role when The Fosters premieres its second season this June. We recently had the opportunity of chatting with Hayden about what the fans and viewers can expect from his character Jude in the upcoming new episodes.
Read on for our interview with Hayden Byerly:
Pop City Life: How does it feel to be an inspiration for so many young viewers that are watching the series and connecting with Jude?
Hayden Byerly: It feels super special, especially as a kid my age, at 13 years old for people to say that they really connect with me, and really understand my role. It's super cool. It means a lot. It's very special and important to me. I think it's a very big thing to be able to play something on T.V., but have it be so real that it connects with so many different people on such a personal level.
PCL: How has the fan support been since joining the show? Are you enjoying connecting with your fans?
Hayden: Yes, I am. I definitely love meeting different people who watch the show and getting to talk with them and hear what they think about the show and what they like. It's been super fun, I like it a lot.
PCL: How will Jude's adoption affect his relationship with Callie this season, and will the family dynamic change at all?
Hayden: That's definitely an issue that Jude faces. He feels as though, you know, especially finding out that they don't have the same dad that it gets a little weird for Jude and it gets hard for him to kind of handle. We definitely see that in the Season 2; we watch as he struggles to take that in. But he still feels very close to his sister, but you'll have to watch. You'll have to see to find out!
PCL: Can you tease anything about the upcoming season?
Hayden: Brandon wants to do a risky hand surgery. Mariana is struggling with her heartbreak with Zac. Jude goes through struggles with Callie about her real dad.
Also revealed on the conference call:
How do you get into character?
Hayden Byerly: Jude is a separate person. Jude is me but I'm Jude, but I'm not Jude if that makes sense. Getting into character for Jude is basically creating another person, thinking about every little detail. Who they are, why they do what they do, why their hair is brown, all of that. You think about your character and who he is. It's an interesting process but I guess everyone has a different way of getting into character.
What can you tell new viewers about Jude?
Hayden: Jude is a very quiet—well, when we first watch The Fosters we see that Jude is a very quiet, sensitive-type of shy kid who comes from a very rough past who has been in several different foster homes and has gone to several different schools in over just a couple years. He goes through these foster homes with his older sister Callie and they have a very rough time and haven't really been in a good home. He just wants to keep the peace and stay happy. He just wants to find a good home. He wants to be able to have a family, he wants to have a mom and a dad, or in this case, a mom and a mom. He wants brothers and sisters. He loves all of that.
What quality of Jude's relates most to you in real life?
Hayden: I definitely think that he's very sensitive. I feel like I am kind of sensitive in a way. I feel like a sensitive quality is good to have and I feel like I am very sensitive as well as Jude. Jude is also very aware of his surroundings and I feel like I try to make sure that I'm aware of my surroundings and know what's happening around me.
Do you think Jude finally feels like he's a part of the family now that the adoption has gone through?
Hayden: Jude definitely feels like he's permanently there, like he's going to stay there forever now that the adoption is finalized. Before, he was having some issues with if they were going to keep him or not and he really wanted to stay there, but now that the adoption is finalized Jude is very comfortable. He feels safe.
What's it like working on set of The Fosters?
Hayden: The Fosters' set is probably one of my favorite sets I've been on. I've worked on just a few, but it's by far my favorite. The people that we work with are fantastic. All the actors and actresses are very professional and they're very experienced and very fun to work with. The crew, they work very hard and they're great at what they do. It's a great crew. It's a great experience. It's a wonderful set.
Everyone is super professional on the show. We definitely like to have fun. We're definitely a very fun cast. Maia's great to work with and she has a brother so that's kind of a good reference for her when she goes through those issues with Jude because she can use that. Jake is a very cool, nice dude who definitely loves playing the role of Jesus. David is a very, very smart, very cool guy who plays Brandon very well and I think he's a very talented actor.
Who are some actors/actresses you look up to?
Hayden: One of my favorite actors is Leonardo DiCaprio. I love his work and I love a lot of the movies that he's in. He's actually in my favorite movie, Catch Me If You Can. I like Tom Hanks, which is another great actor that I definitely look up to.
I really would just love to continue acting on all levels. I'd love to keep doing commercials and I definitely want to do a big movie. I think that would be very fun to do. I loved doing motion capture, I did motion capture for a video game and that was super cool, it was super fun. So I definitely want to continue to do everything I can.
We'd like to thank Hayden Byerly for taking the time to answer some questions for us. We really appreciate it! Be sure to keep up to date with Hayden by following him on Twitter @haydenbyerly.
The Fosters returns for its second season Monday, June 16th, at 9/8c on ABC Family.