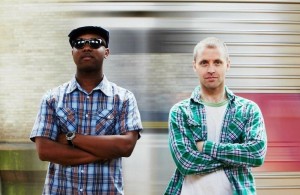 If you're into some good eclectic electro-pop dance music, this just may be for you. Artist Jonathan Arons is a Grammy award winning musician who brings us Tachyon and their new EP "Teleportation". Tachyon is described as disco-infused dance/pop music that seems perfectly suited for fans of Daft Punk, Fun, and groups with similar sounds. After recently signing a licensing contract with Nickelodeon and playing the Big Apple Indie Music Industrial Showcase, Tachyon is gaining exposure for this latest release.
"My inspiration comes from my past tumultuous relationships, an alternating sustained childlike idealism with dark cynicism, and I guess a little nerdiness combined with dramatic flamboyance liberated by dance/trance rhythms."
Jonathan Arons has appeared on America's Got Talent, Tonight Show Jay Leno, Jimmy Fallon, and has garnered millions of YouTube views as the dancing trombone player.
James Cage on the other hand has mixed/produced for The Voice's Frenchie Davis and Kobalt Music's Janice Robinson and also licensed his song "Hit It" for Victorious on Nickelodeon. The duo have both been horn players backing up and working for Alicia Keys, Stevie Wonder, and Jon Bon Jovi.
Tachyon have released "Circles", the debut song off of "Teleportation" and the video is currently gaining views on YouTube. The song is the perfect blend of electro-pop with disco to get your head bopping. The video may seem a bit silly and fun in the way that it resembles a sketch on Saturday Night Live but the chorus is very catchy. If this is your type of music, you should definitely check out the music video below:
The "Teleportation" EP is available for streaming on Soundcloud and features 5 tracks in total.
You can keep up to date with Tachyon by checking out their official website here while also following the band on social media on Twitter and Facebook.