Joy to the world, the day has come! Game of Thrones is back for its all new season 4 full of tension, plotting and blood. A first episode where all the characters are facing the aftermath of the previous 3rd season and new plots are slowly building up.   
So previously on Game of Thrones. Well not really a surprise the first minutes of the show is a little sum up in case you've been asleep during the last seasons. Daenerys preparation for war, the Lannisters' wedding plan, Jaime's terrible journey, Jon Snow's dilemma…the Red Wedding as if we had forgotten it and even Ned Stark beheading (as if we needed to remember it).  Welcome back in Westeros everyone.
The episode starts with Tywin lannister melting Ned Stark's sword – accompanied by the Rain of Castamere music in the background (is it going to be THE music of the show?) – and forges two new ones. One of them is for his son Jaime. But the gift comes with a condition. Leave it to daddy Lannister to offer a gift to his son just to make him feel inferior.  Tywin doesn't forget Jaime's new handicap and prefers to send him back to Castlerock so he could be the King of the land. This including he has to get married and has children. But Jaime refuses it… knowing how people saw him over there and actually prefer to stay her to protect the king Geoffrey. "The king is never safe". Well that's not such a stupid idea as everybody would love "to see his head on a pick" but as expected Tywin doesn't lose time to make his son notice he has only one hand left.
After dealing with his dad, Jaime has also to face the consequence of what happened to him with his sister. While he receives a golden hand as a prosthesis, Cersei drinks a lot and sounds hostile towards him. Once alone she even refuses to be kissed by him. Far from being disgusted by his new state, she is actually mad at him for leaving her alone remembering all she had to go through from her husband's death to her soon-to-be husband. Unfortunately, even if Jaime tells her he had done everything to come back she simply answers "you took too long" this implying (for admitting he loves her, for coming back to her and from protecting her).
So depreciated by the father and rejected by his sister, Jaime has a little argument with Brienne concerning Sansa. Brienne reminds him the promise he did to Lady Stark to send the girls back and protect them. The conversation leads Jaime to wonder if she is not related to the Lannister because since he's been back anyone who has been a pain in his ass was a Lannister. Too bad, his heart seems to be still for his sister as Brienne actually appears as the only character to see the good person in him.
Another Lannister actually has to fix his situation: Tyrion. As a true gentleman, he is trying to take care of poor Sansa who refuses to eat since she has learned about her family's murder. "What happened to your family was a terrible crime," he said "I admired your mother. She wanted me executed but I admired her." (No wonder everybody loves him, this character is truly awesome). "Your mother would like you to carry on." But it's too much for Sansa who only wants to be alone. Meanwhile, Tyrion goes back to his apartment where he meets the other woman of his life. Shae who had observed him with Sansa, wants some time with him. Taking all the courage he has, he refuses to sleep with her explaining the situation is tensed:" My nephew, the king, wants to murder me, my wife hates me because my father murdered her family and Oberyn wants to murder anyone whose last name is Lannister." And he should also had, the woman I love now also hates me because I don't want to have sex with her. A fight starts between Shae and Tyrion leading us more and more to the inevitable: they got "caught" by one of Cersei's spy.
But this is not the only problem Tyrion has. Geoffrey's wedding approaching, guests are arriving to celebrate it including Prince Oberyn. This new face of the show is not one we'll forget soon because he is not only a Prince, his sister, Elia was Prince Rhaegar Targarien's first wife. She was murdered with her children by Robert Baratheon and the Lannister's army during the war. When meeting with Tyrion (who immediately felt he came here for a good reason), he doesn't even hide his true motives. "The Lannisters aren't the only ones who paid their debts". Well all is said.
And Oberyn can count of the Targarien family. Daenerys is still traveling with her army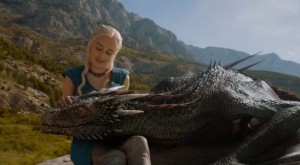 which is quite huge now and her dragons who are…wow…way bigger and quite dangerous even with their own "mother". When they're fighting for meat and she tries to calm them, one is about to attack her. Yep Daenerys, dragons are cool but like kids, they need some education. Will they be a threat for her? Only next episodes (or next season) will tell.
Jon is back in the Night's watch tries also to deal with the death of the Starks. Even if he had some struggles with them considering he was Ned's bastard. But still, he felt horrible for what happened. Judged by the Night's watch council, he has to defend himself for the time he spent with tribe Beyond-the-Wall including his relation with Ygrite and tries to convince them of their imminent threat.
The episode concluded with the ONE character we've been worried about: Aria! So she's still alive don't worry and she is actually doing well with the Hound. They "fight" a little like daughter and father especially when she wonders when she'll get her own horse. But their little journey is suddenly stops when in an inn Arya recognizes Polliver the man who killed her friend Lommy (back to the season 2) with her sword Needle he stole from her.
Inside the inn, the Hound fights against Polliver's men leading us to certainly the first masterpiece scene of this episode: Arya taking her sword back from Polliver and sliding it into his esophagus the same way and with the same words he said when he killed Lommy. Under the attentive eye of the Hound, Arya has become an effective killer.
Without big suspense, this episode was more like both a conclusion and an introduction. A conclusion of the previous season, with all the characters fixing their own feelings about what happened. They all choose the path they're going to follow leading us to the next stories that will shape this new season. Not surprising this premiere was more than enjoyable, a great start for a new season which promises to be epic. Dear Game of Thrones, we so much we missed you.